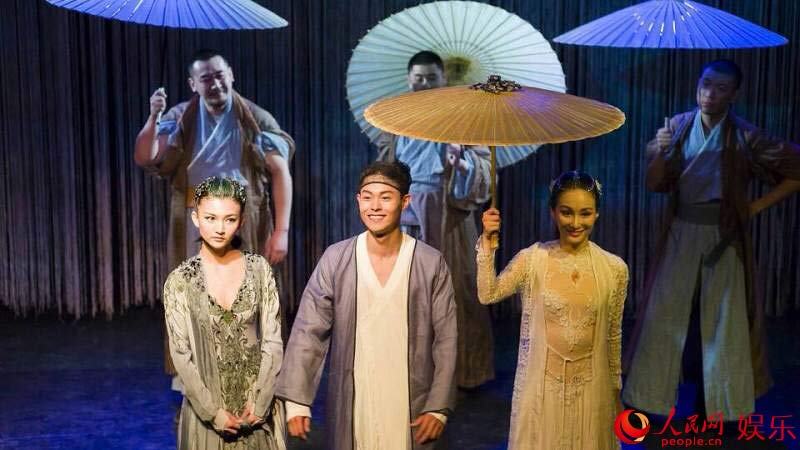 The Green Snake premiere was held in Edinburgh at the C-Venue Theatre on Aug 20, 2014.[Photo/people.cn]
Directed by Tian Qinxin, Green Snake was produced and performed by the National Theatre of China. The premiere show in Edinburgh C-Venue Theatre was a big success and won warm applause from audience on Aug 20, 2014.
The premiere in Edinburgh Festival Fringe marked the fourth time that Green Snake was performed at an international arts festival, followed by the Hong Kong Arts Festival, Shanghai International Arts Festival and the Kennedy Center American Theater Festival. Scottish composer David Paul Jones added the electronic music elements to the play. It also attracted many local visitors, who are curious about how an ancient Chinese story can be explained in a modern way that combines both elements of both the East and the West. Several visitors from Finland who participated in the festival said the play completely surprised them.
A British photographer said the play changed her understanding of Chinese art, and "the director is very bold and the technique is fresh".
This work is adapted from Li Bihua's novel. The novel itself is a variation of a Chinese folk tale Madame White Snake, where Li tells the story from the perspective of Xiaoqing, the Green Snake, who normally plays a supporting role behind the main character, Bai Suzhen, the White Snake. Two snake spirits have been training for many centuries to take human form and experience the love, freedom and wisdom that are supposedly only available to humans.
We Recommend: