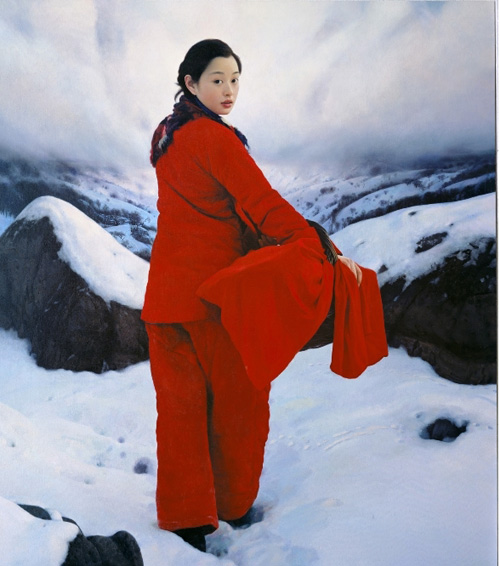 Early spring in Cuiping Gou
Wang Yidong, a Chinese visual artist who was born in the Yimeng Mountain area of Shandong province in 1955, graduated from the Beijing Central Academy of Fine Art and has been teaching there since 1982. The colors folk red, slient black, sunshine and beautiful country girls are frequent elements in Wang Yidong's works since he has deep feelings for his hometown Yimeng Mountain. His painting Early sping in Cuiping Gou was sold for 20,700,000 RMB at Beijing Poly Auction in 2006.
Wang Yidong's works, with a kind of natural romanticism, have their own subtle artistic expression. His paintings convey the scenes appropriately through frozen moments in life. Those scenes are not bleak, but an optimistic outlook on daily life.
The artist depicts landscapes, characters, objects and passions with his excellent techniques and lively colors to show a world of the Asian spirit. In such a world, we can feel the rustic, cozy, silent, beautiful things. As time goes by, Wang Yidong leaves passions and hopes in his paintings during his exploration of realistic techniques.
The countryside is the original paradise of human beings. No matter how far their bodies moved away, their souls will go home in the end. Wang Yidong is one of the first group of artists returned from America. When he was in America, he felt that he lost his inspiration — the air and soil in his motherland. Then the next year, he packed his bags and flew back home. After he came back to China, he created a new style which is closely related to Yimeng Mountain Area traditional culture, to combine it with western techniques and aesthetics.
We Recommend: