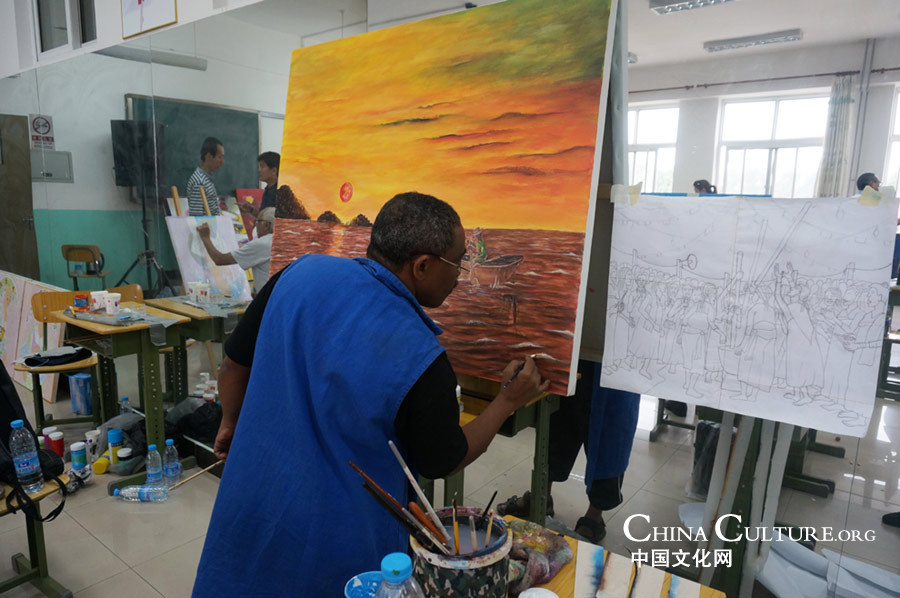 A painter works on his artwork in Beijing. [Photo/chinaculture.org]
On Aug 18-24, 11 famous Arabic painters from 11 countries, such as Lebanon, Kuwait, Iraq and Yemen, attended the Vision and Inspiration - Famous Arab Painters workshop in China. They came to Yanqing District, Beijing to sketch, visit the Badaling Great Wall, Longqingxia, the Wild Duck Lake National Wetland Park and the World Grape Expo Park.
The workshop lasted 22 days. It had two phases: the first phase was conducted in Zhoushan, Zhejiang province and the second one was in downtown Beijing and the Yanqing district. Downtown, they visited historical sites and had discussions with famous artists in Beijing. In Yanqing, they created works while enjoying the beautiful cultural and natural scenery.
The workshop's aim was to implement the 2010-2014 Action Plan for the Forum on China-Arab Cooperation and promote cultural exchanges between Chinese and Arabs.
The Vision and Inspiration - Famous Arab Painters workshop in China had been held four times in China. A total of 44 famous painters have participated over the years and created nearly 160 exquisite works. This activity has struck a chord with Chinese and Arabic artists, as well as promoted cultural exchanges between China and Arab states.
Following the workshop, the created works, along with those from previous years, will be displayed at the Vision and Inspiration – Exhibition of the Fifth Workshop of Famous Arab Painters in September 2014.
We Recommend:
| | | |
| --- | --- | --- |
|   |   |   |
| "Chinese Culture Journey" kicked off in Jingdezhen  | Photograph Exhibition of Embassy in Lebanon held  | Peking Opera feast kicked off in Bangkok  |