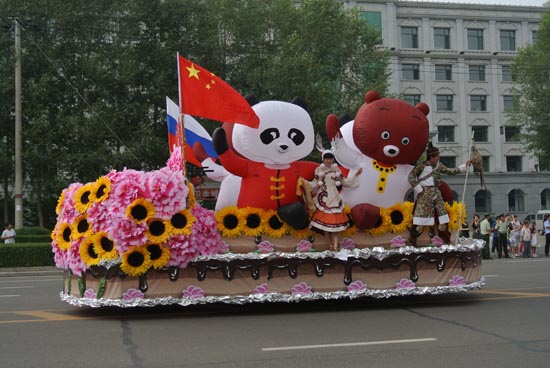 [Photo]: A woman waves from a float at the fifth Sino-Russia cultural fair parade.
The fifth Sino-Russia cultural fair was held July 27-31 in Heihe, China and Blagoveshchensk, Russia.
The fair was co-sponsored by the Chinese Ministry of Culture, Ministry of Culture of the Russian Federation, Heilongjiang provincial government and the government of Amur Oblast.
Chinese Deputy Minister of Culture Ding Wei, Vice Governor of Heilongjiang Province Sun Dongsheng and the Russian Federation deputy minister of culture attended the opening ceremony.
The Russian Federation deputy minister of culture said this cultural fair has become an important platform for cultural exchanges between the two countries, which will be helpful for in-depth cooperation and exchanges in the future.
Wei delivered a speech at the opening ceremony and said he hoped this cultural fair will become a role model for cultural exchanges and trade cooperation between China and Russia.
This event included dozens of activities in six categories: high-level exchanges, exhibitions and fairs, live entertainment, public culture, sports and a tourism session. People from China and Russia dressed up to participate in the parade, making it a grand stage for entertainment.
This event aimed to create a large-scale, cross-border cultural trade fair and cultural exchange platform with cultural charm, economic efficiency and great influence.
Since its establishment in 2010, the annual Sino-Russia Cultural Fair has enriched itself by increasing activities and attracting more participants. The long-term mechanism of cultural exchanges between China and Russia has enhanced the cooperation and friendship between the two countries.
We recommend: