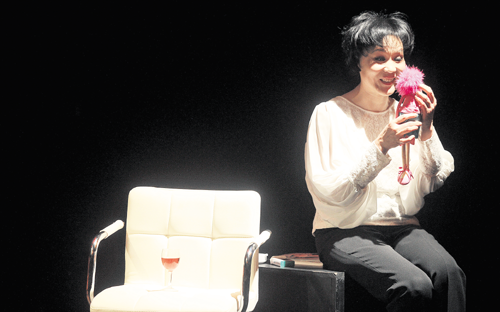 CHINA DAILY
Penghao Theater is an active player in the thriving scene of small-theater productions in Beijing. Many of its plays like Broken Shadow are about dashed dreams and aspirations and the conflict between ideals and reality.
Small-theater productions may not command headlines, but they form the most artistically daring and commercially vibrant part of Beijing's theater scene, writes Raymond Zhou.
The crackdown on wasteful government spending has monkey-wrenched the performance market, causing a 20 to 30 percent shrink in its size as large numbers of government-backed shows face the chopping block. But there is a silver lining to this cloud of austerity. Plays (the spoken kind) have seen a 10-percent increase in market share as the upward trend continues in the past year. In Beijing, plays added up to 5,000 to 6,000 performances in 2013. Of this number, 3,600 to 3,700 were presented in small theaters. The genre eluded the bust because audience members paid for their seats, vis-a-vis singing-and-dancing shows that were disproportionately supported by institutional buyers. Better yet, most of these theatergoers come from the enviable demographic ranging from ages 20 to 40.
This is according to the Beijing Small Theater Alliance, which was formed in March 2012. When it comes to the performing arts, Beijing is not just another town in China. It is the equivalent of Broadway in the United States.
Outside of Beijing and Shanghai, the production capacity for plays is very limited, says Mao Xiubing of Dao Strategy, a consulting firm for the culture industry. Some theaters in Wuhan, Hubei province, record an average of 30 shows a year, and Hangzhou in Zhejiang province has an annual total of 600 shows, of which roughly half are touring productions originating in Beijing, he says.
Small theater was not found in China until 1982 with Absolute Signal, a play written by Gao Xing-jian and directed by Lin Zhaohua. It was produced by the Beijing People's Art Theater, which is a bulwark of traditional aesthetics.
Even though these State-owned organizations have built small venues as part of their performance complexes, the bulk of the city's small theaters-or rather, the productions that rent these intimate spaces-belong to private organizations with no government subsidy and little access to funds or grants.
In 2013, some 70 to 80 percent of Beijing's plays were presented in small theaters that dot the capital city. (Unlike the Great White Way of New York, they are not concentrated in one district.) But official data is grossly insufficient. There are only 10 privately owned small theaters registered in Beijing and one more in Shanghai, reveals Wang Xiang, creator of Beijing's Nanluoguxiang Theater Festival. This belies the vitality of the sector.
Last year's citywide repertory was made up of some 200 to 300 plays, says Fu Weibo, general manager of Pioneer Theater, a venue of the National Theater of China. The Beijing Small Theater Alliance organized a monthlong exhibition program by year-end that showcased 14 plays from 12 companies, with a total of 42 performances and 13,000 patrons. Divorce, adapted from a Lao She novel, and Below the Surface of Water, a love story, emerged as the most acclaimed.
Lin Kehuan, a renowned stage director, saw 10 plays in the lineup. He praised the passion and innovation of the young people behind these works.
"When I graduated from the Central Academy of Drama in 1965, I could never imagine Chinese theater would come this far. And likewise, I cannot imagine how far it will go in another 50 years."
He sensed a theme running through most of these small productions, such as dashed dreams and aspirations and the conflict between ideals and reality-typical concerns of today's Chinese youth. "What is lacking in all the excitement is a contrast of calming down and meditation," he adds.
However, behind the rosy facade lies a big minefield and some mind-boggling paradoxes.
For example, theater venues across the country have very low occupancy rates, yet because of their State ownership they generally do not operate in accordance to free-market rules. And the capacity is growing each year with a dozen new ultramodern facilities at a cost of some 8 billion yuan, says Mao of Dao Strategy.
But a private company that produces a play has to have a healthy run to recoup the cost. "Currently the average run is 20 shows for a play, which is not enough, and most productions have to tour several cities to make the money back," Mao says.
And if you thought venue operators would bend backward to lure producers, you'd be dead wrong. Last December, a play in Trojan House, a popular venue in an office complex, was staged in frigid cold because it had failed to pay rent.
Workers in theater can barely make a living from staging plays. Cui Wenqin, a producer with Ming Theater, says they make money from staging corporate parties even though they've had a string of hit plays. Some have day jobs in the more lucrative television business.
Those who have attended festivals in Edinburgh or Avignon cannot stop oozing with envy for their Western counterparts who are given generous subsidies from their governments yet face no intervention in artistic decisions.