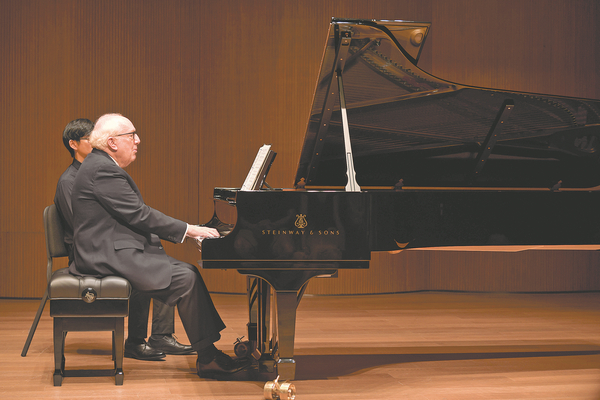 Former Yale dean shows his passion for China as visit helps him find a new rhythm, Chen Nan reports.
It was a warm evening in August in 1995.
Robert Blocker was driving to Yale University after being appointed as the university's Henry and Lucy Moses Dean of Music.
He didn't expect to see many people, but a couple of students met him and showed him around.
"When I looked at the history of the university and how people invested in the school's art programs, I was humbled by the chance to work there. I could not wait for the next day to start my job," says Blocker in an interview with China Daily.
"And that thrill never changed because every day was different. My job as dean was not scheduled. I walked around the campus and students talked to me. I went to rehearsals by the students and teachers and got inspired by them," he adds.
After nearly three decades as the Henry and Lucy Moses Dean of Music at Yale, the 77-year-old retired from the position on Aug 31.
Also an accomplished pianist, he remains on the faculty as professor of piano at the music school, as well as professor of leadership strategies at Yale School of Management.
Among his immense contributions as dean, Blocker developed long-term relationships with fellow musicians in China.
From Oct 23 to Nov 9, he toured cities, including Shenzhen, Shanghai and Hangzhou, giving recitals and master classes.
"China is a very special place for me. I am very happy to be back after the pandemic to meet my friends and colleagues," Blocker says, adding that he is particularly excited about being with young students.
During one of his recitals on Oct 27, Blocker performed at the 11th Shenzhen Piano Music Festival, playing pieces, such as sonatas by Domenico Scarlatti, Schubert's Piano Sonata No 4 in A Minor, D 537, and selections from Beethoven's Bagatelles, Op 119.
"I noticed changes to Shenzhen, with new buildings coming up. It's the same thing happening to Shanghai, new art centers and new growth. People come out to enjoy vibrant music," he says, noting that the tour mainly covered the southern part of China and he hopes to tour the north of the country soon, including Beijing and Xi'an, Shaanxi province.
Yang Suxian, director of the Shenzhen Piano Music Festival, which was first launched in 2013, says: "He has been very supportive and has participated in the Shenzhen Piano Music Festival for years, even during the pandemic.
"He also visited different places in the city, from schools and enterprises to local communities. He knows the city very well."
As dean, Blocker launched a series of joint tasks with Chinese music schools, such as the Shanghai Conservatory of Music and the Central Conservatory of Music, as well as performing with Chinese symphony orchestras. For example, right before the 2008 Beijing Olympic Games, he organized an event in partnership with the Central Conservatory of Music in Beijing, to present the Yale Philharmonia in performances in Beijing and Shanghai.
"For music schools, the mission is the same, helping our students succeed and creating lasting, positive changes in society. The idea was simple when I wanted to launch initiatives with Chinese music schools: our schools should be related. I wanted to build up connections with Chinese music schools since we have many students and teachers from China and our colleagues also work in China," Blocker says.
His vision of a more hopeful world is reflected in his belief that music bridges the understanding between people.