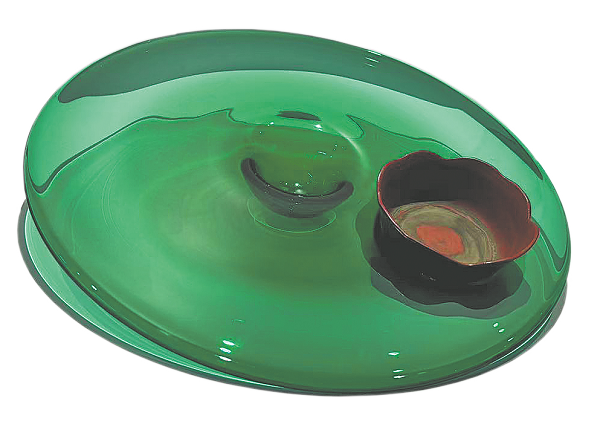 An off-centered, brown French glass vessel with a delicate silver filigree top was the first thing visitors saw at the China-France art exhibition that opened in Chengdu in mid-October.
"The glass was sent to us by a French artist, and I interpreted its off-kilter position as an expression of a dynamic state," says Tian Shiqiang, a senior silverware artist based in Chengdu, capital of Sichuan province. "So, as we worked on it, we ensured that it maintained that dynamic feel."
A silver bead, hung from the top, was suspended inside the vessel. "When (the glass) moves, the bead sways," he explains.
It took two months of trial and error before Tian was able to make a silver cover that perfectly matched the French glass.
"The ideal dimensions were settled on after several experiments. The metal becomes deformed during sintering (the application of intense heat), and so we needed to take deformation into account to ensure the cover fit the vessel perfectly," Tian explains.
His intervention was one of 17 pieces of artworks that resulted from a collaboration between artists from France and China, and is representative of examples of intangible cultural heritage from both countries. The finished objects were displayed during the 8th International Festival of Intangible Cultural Heritage in Chengdu.
Other highlights included a bird feeder, consisting of a handle attached to a bamboo bird cage made in China with ceramic dishes from France; a glass cup from France with Chinese braided rope; and a lacquer bowl from China with a glass plate from France.
"All seamlessly blend together without discord," says Zhang Jingming, curator of the exhibition, adding that the objects are proof that culture is a language of civilizational exchange and is capable of giving rise to new concepts.
"It is literally a dialogue between China and France, and these works break through geographical, linguistic, technological and experiential boundaries," Zhang says.