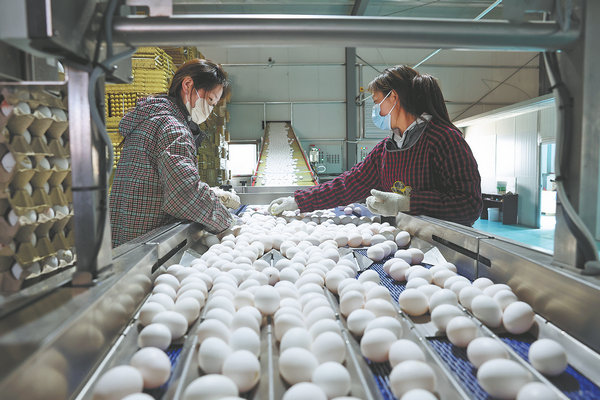 After completing postgraduate studies in law at Central China Normal University in Wuhan in 2011, Zhang Honglin visited a big chicken farm in Europe by chance, and that inspired him ultimately to set up a chicken farm in Tibet autonomous region.
Zhang says that the European farm procedures such as feeding, managing defecation, removing manure and selecting eggs were all automated, and once the eggs were packaged by sorting machines, downstream industry chains came into play as the eggs were bought directly from the farm.
After returning to his hometown of Wuhan in Hubei province in 2012, he set up Wuhan Hongnong Agriculture and Animal Husbandry Co, a high-tech chicken farm in the Huangpi district of the city.
The chicken coop was equipped with a 24-hour ventilation system, digital facilities were adopted to serve millions of laying hens, and imported organic fertilizer equipment was used to dispose of manure, Zhang says.
After more than a decade of growth, his company has been awarded the title of a national leading key enterprise in industrialization by the local government. The farm owns 1.5 million laying hens and produces 30,000 metric tons of eggs a year.
Zhang, inspired by the Ninth Batch of Aid-Tibet Working Team to start a chicken farm in Tibet autonomous region, decided to establish the Tibet Hongnong Agricultural Development Co in the Nedong district of Lhokha, Tibet, in 2020.
"In 2020 the Tibet Hongnong Agricultural Development Co was far from easy," he says. "I invited experts to conduct scientific research on raising chickens in high-altitude oxygen, humidity and extremely cold weather."
In June 2020 work began on building the first phase of the chicken farm in Tibet, and the company overcame technical difficulties such as low pressure, hypoxia and low humidity. However, it also encountered difficulties transporting chicken seedlings.
His company called in experts to observe the effect of the high altitude on seedlings along the route on which they were being carried.
"Humidification, heating and replenishment were adjusted to ensure the survival rate of chicken seedlings," he says.
With a journey of more than 3,800 kilometers, the first batch of more than 70,000 chicken seedlings was transported from Beijing to the Tibet company in May 2021, with 98 percent of the seedlings surviving.
The eggs produced in Tibet are as good as those produced in Wuhan, he says.
On Aug 30, 2021, the Tibet company produced its first egg, breaking a record for a large-scale chicken farm in such a high-altitude location. It is expected to begin trial production in November.
In addition to his chicken farm entrepreneurship on the plateau, Zhang has been working to help rural residents by providing them with job opportunities.
His company has spent more than 67 million yuan ($9 million) on salaries of employees from surrounding villages, he says, and it has provided stable jobs for more than 120 villagers and college graduates.
In addition to creating jobs, Zhang has been encouraging more locals to operate family-based chicken farms at their homes. In August 2020 and October 2021 more than 70 rural residents went to Wuhan to learn about chicken breeding.
"That model has been widely accepted and acknowledged by some of the residents. Villagers from more than 20 villages near the company have been operating small chicken farms on their doorsteps."