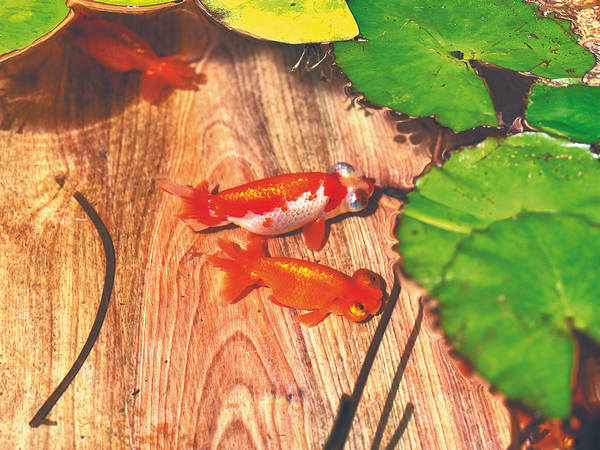 Graceful and colorful creatures have been appreciated for different reasons through the ages, Xu Haoyu reports.
As a national treasure, goldfish have accumulated and encapsulated a rich tapestry of historical and cultural significance. In bygone eras, officials, nobles and intellectuals took great pleasure in owning, breeding and observing goldfish, taking them as a joyful aspect of their lives. During the Ming (1368-1644) and Qing (1644-1911) dynasties, especially, goldfish became an indispensable ornamental element in the courts and gardens of royal mansions.
In modern times, as goldfish have made their way into ordinary households, they have represented an important source of cultural and spiritual enjoyment. Serving as ambassadors of beauty, goldfish have also become the subject of various forms of art, including clothing, porcelain, stamps, glasswork, kites and paper-cutting. They have transformed into models in front of photographers' lenses and fairies beneath the watercolor brushes of painters.
To celebrate the 40th anniversary of the founding of Prince Kung's Palace Museum in Beijing, a goldfish-themed exhibition is being held from Aug 28 to Sept 10. More than 10 different varieties and 800 individual goldfish from all over the country have been gathered together to form a fascinating view. At the same time, the historical background of goldfish is vividly narrated through rich illustrations, historical books and cultural artifacts.