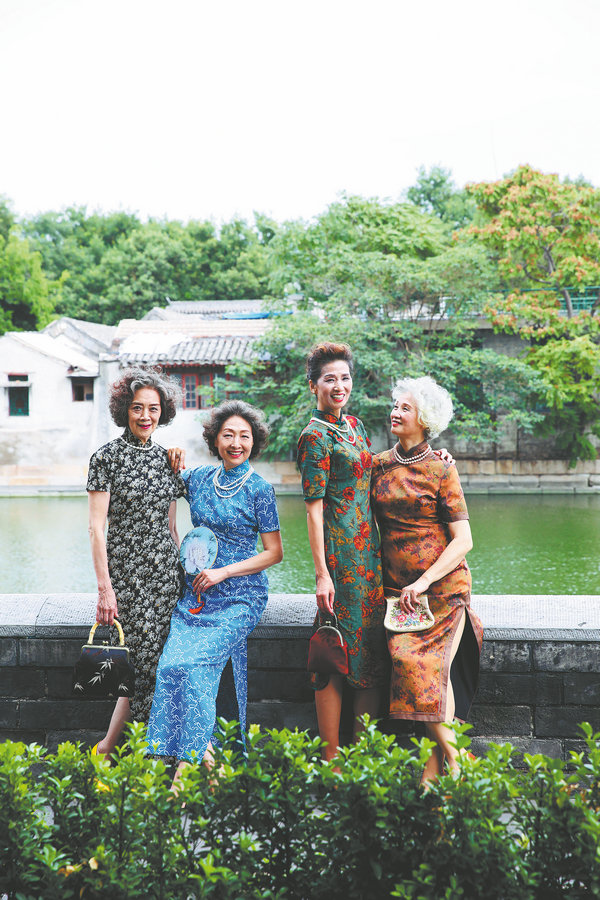 They strut down the catwalk, svelte figures displaying the latest designs with cool, confident looks on their faces to match.
The model quartet attracts more than 100 million views and over 3 million fans with their online fashion videos alone, proving that, at an average age of 71 years, when it comes to style, substance and zing, turning silver can increasingly show the way amid youth-dominated digital trends at home and abroad.
"We wanted to leverage what we felt we're good at — our sense of style, positive perspective on life and healthy living — to show people, via the latest communications platforms, that it's completely possible to age gracefully and attractively," says Wang Nianwen, a retired teacher who, at 77, is the oldest of the four.
Together with Wang Xinghuo, 73, Lin Wei, 68, and Sun Yang, 67, the retiree from Beijing is part of the Shishang Nainai (Fashionable Grandmas), a popular group on online platforms like short-video site Douyin producing inspiring content that is helping many to face the challenges of an aging society.
The close friends met two decades ago in a modeling workshop and found they held similar interests in an industry that allowed them to be kept busy after retirement, going on to put together the modeling videos — which are also tagged under the group's online English name, Glamma Beijing — that have attracted impressive numbers of viewers in the past four years.
Lin was a professional basketball player who went on to study medicine and became a nurse. Standing at 1.8 meters, the statuesque senior is the tallest of the group members, who are all above 1.7 meters.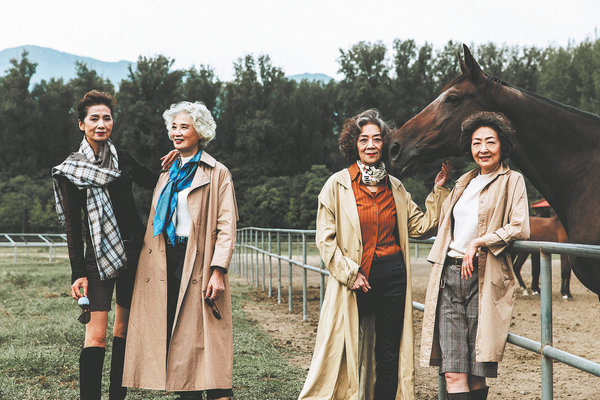 "We want to show other elderly people that they can lead meaningful lives like this," Lin says.
"We also want the message to reach young people, that they can look forward to old age positively, and that they can create a bright future together with the elderly. If you are positive, your life will shine.
"Shooting videos can reflect our real state of mind and body from all angles. Accepting aging as a natural process, accepting my wrinkles, my gray hair — all this helps us value the fulfillment of daily life."
Sun, a teacher who also specialized in the English language, had switched to foreign trade in the clothing sector.
"I was involved in exports, such as Japanese kimonos and bags. My work was somewhat related to fashion, but I mainly dealt with raw material processing and didn't participate in design. Pursuing fashion was purely a personal preference," she says.
"None of us had any real experience in fashion. The reason why I joined a modeling class initially was that after retiring, I didn't know what to do and wanted to find something enjoyable to engage in."
Sun's daughter-in-law, Zhang He, helps the team shoot and post its videos, on top of liaising with enterprises and industry groups which want to work with the seniors to connect them with customers who are fans.
Other than product referrals for the quartet's viewers who are interested in what they wear, carry and use, Zhang also helps involve the senior models in charitable causes as part of their outreach efforts.
Sun says: "In general, we do about four livestreaming sessions a month. Those can include presenting and showcasing what we feel are affordable clothing, bags and skincare products.
"Any funds we generate in promoting products go toward supporting the activities."
Wang Xinghuo, who worked in a State-owned enterprise after studying accounting, says a sense of purpose is crucial in sustaining their interests as elderly stakeholders of an aging society.
"Enriching yourself, like reading more to increase your knowledge, will also help you deal with the development around you, tuning your heart to the outside world," she says.
"It may be difficult to put yourself completely in the position of the elderly, the challenges they are facing and issues they are dealing with. Tolerance and empathy help."