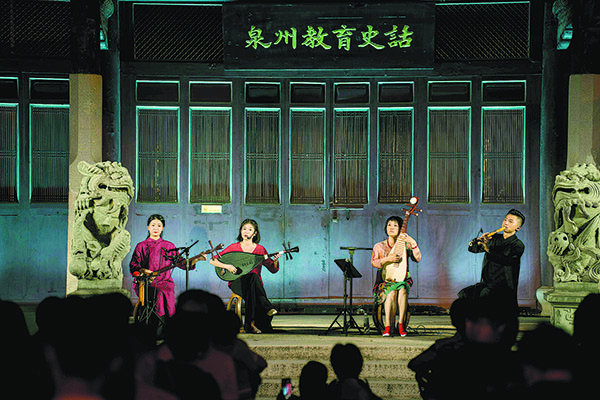 Music festival held in heritage structures heralds start of Quanzhou's drive to bring a fresh perspective to its cultural inheritance, Xu Lin reports.
Virtuoso Wu Man skillfully plucks the strings of a Qing Dynasty (1644-1911) pipa alongside young musicians playing instruments like the nanyin pipa, which dates back to the Tang Dynasty (618-907).
Nanyin, which also describes a traditional musical form that originated in southern Fujian, was inscribed on the UNESCO Representative List of the Intangible Cultural Heritage of Humanity in 2009.
The performance recently took place at the Confucius Temple and School in Quanzhou, Fujian, one of the 22 sites in the city that were jointly listed as a UNESCO World Heritage Site.
During the Song (960-1279) and Yuan (1271-1368) dynasties, Quanzhou was one of the largest and busiest seaports in the world.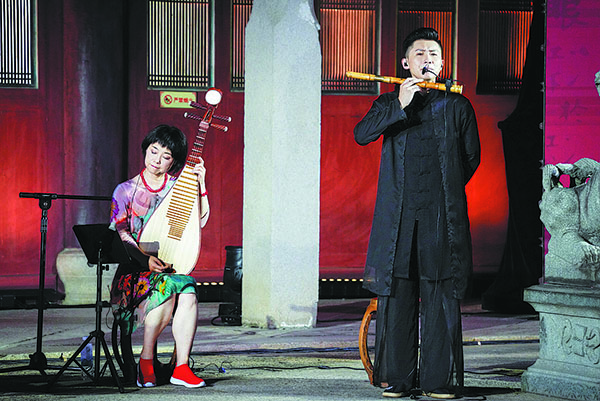 The concert was a highlight of Quanzhou's Ancient Architecture Music Festival, held in late July, which allowed audiences to enjoy music in historical settings, and incorporated other interesting activities, such as forums, city walks and movie screenings.
Wu calls the concert "a bold attempt", a kind of dialogue among the different styles of pipa from different periods of time.
"I have always believed that traditional music holds profound value. Innovation should stay rooted in tradition, and tradition should keep pace with the times," she says.
"Our performance was an example of such innovation. We maintained the authentic nanyin style, while introducing novel elements," she adds.
She says the key is the deep affection that youngsters hold for Chinese traditional culture, music and art. This foundation enables the successful promotion of such heritage.