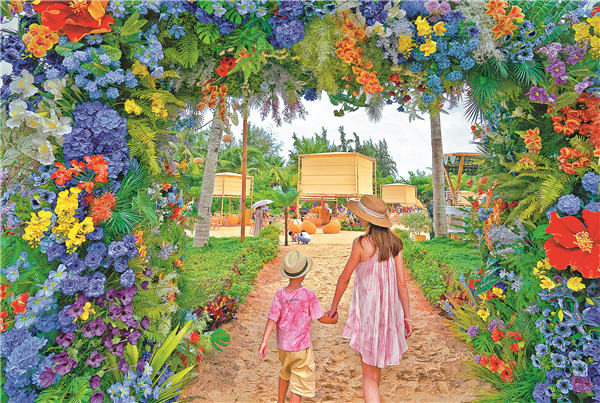 Restriction-free travel across China means more people taking advantage of warm weather to head out and enjoy life.
This summer vacation is the first to be free of restrictions since the onset of the COVID-19 pandemic, and people's passion for travel has ignited. In response, many hotels are going beyond their traditional role as accommodation providers by offering experience-stays for their guests, particularly for families with children, who are a crucial target market.
According to a representative from Wassim Hotels and Resorts, a brand of Beijing Tourism Group, the parent-child customer group dominates this summer vacation, making up more than 50 percent of total bookings. Parent-child travel has now extended beyond just immediate family members to include grandparents and other relatives, China Business Journal reported in July.
The Enjoy Snow Hotel, within Enjoyland Resort in Central China's Henan province, features winter sports activities and has been a popular choice for family tourists this summer.
According to a hotel representative interviewed by China Business Journal, there is a scarcity of hotels in the market that cater to parent-child ice and snow activities. Such hotels require a substantial investment in construction and the training of professional teams, leading to higher operating costs. Nevertheless, the returns from these hotels have been substantial.
Liu Fang, general manager of Song Hotel Kunming in Southwest China's Yunnan province, told the journal that families today have higher expectations of quality. Consequently, hotels need to integrate their own positioning with the local culture when developing new products.
Song Hotel Kunming, according to Liu, is offering a wide range of parent-child interactive experiences, including activities such as handicrafts, pottery making, vegetable planting, kite flying and frisbee.
"The effect of these offerings is evident. Previously, families traveling with children would stay for 1.3 to 1.5 days, whereas now, they are staying for 2.5 to three days during the summer vacation. Many are opting to extend their stays," she noted.
Zhang Hong and her son, from Zhengzhou in Henan province, were one such case. They checked into a five-star hotel near a resort in Kunming one afternoon in early July. Weary from their journey, they had no sightseeing plans for that day. However, the hotel's children's play area and handicraft zones caught the boy's attention. He kept playing until it was dark before finally going to the restaurant for dinner.
Shangri-La Sanya, located in South China's Hainan province, unveiled in mid-July a new recreational family communal area named "The Bloom". It features a Southeast Asia-themed night market, an outdoor cinema, an off-road karting track, a "jumping cloud" trampoline and daily live performances, which are aimed at upgrading the overall family experience.
The inspiration for The Bloom comes from a colorful tropical garden where people can immerse themselves into a world of whimsical oversized flowers combined with lush tropical gardens, vibrant colors and elegant seating arrangements which provide guests with a unique experience, according to the hotel.