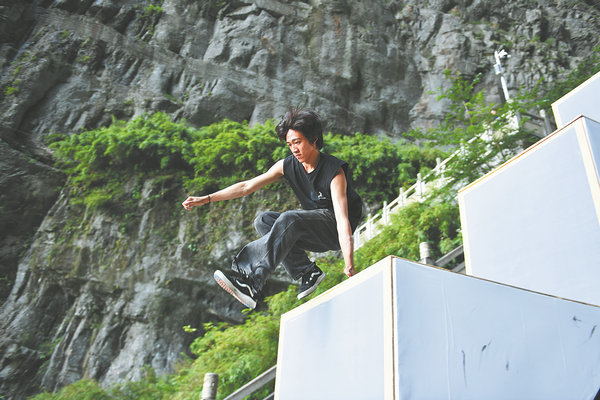 CHANGSHA — Kong vault, lache, palm spin, side flips and the wall run. Over 80 parkour runners from China and abroad performed these spectacular moves as they competed at the Tianmen Mountain National Forest Park in Zhangjiajie, Central China's Hunan province.
Competitors were challenged to complete a sequence of jumps and flips down a nearly 300-meter-long slope with a 150-meter vertical drop from the top of the 999-step staircase, which leads to the iconic Tianmen Cave.
The competition, held late last month, featured an individual speed run, an individual skills challenge and a team race, with the individual speed run being the most challenging. Over 100 sets of obstacles were placed along the course, and competitors needed to maintain their balance while performing at full speed.
"I could have done better," says Chinese competitor Zhou Mianwei, who won the speed run category with a time of 1:35.505.