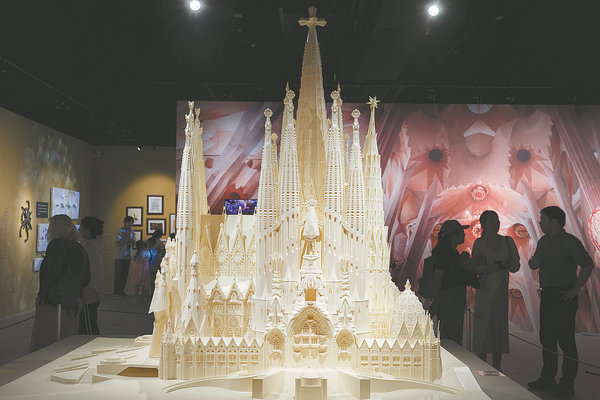 A series of exhibits focusing on world-renowned architectural masterpieces from Spain, such as the Sagrada Familia, Casa Vicens and Casa Batllo, have been put on display in Beijing, offering an immersive experience to visitors.
All these classic architectural treasures were designed by Antoni Gaudi, a Spanish architect revered as the greatest exponent of Catalan modernism. Seven of his works have been inscribed on the UNESCO World Heritage List.
This year marks the 50th anniversary of the establishment of China-Spain diplomatic ties. The Beijing-based Meet You Museum, in cooperation with the tourism bureau of Spain's Reus region in Catalonia, has organized a "touring exhibition" in China.
Titled Meet Gaudi: the Art World of Talented Architect, the exhibition debuted in Shanghai in March. It started in Beijing on July 29 and will continue until November.
"We hope that the event can build a bridge of cultural and tourism exchanges between China and Spain, and that Gaudi can inspire Chinese architects and artists, as well as visitors, to learn more about Spain," said Sun Xiaobing, deputy director of Art Exhibitions China, which is supporting the exhibition, at the opening ceremony of the Shanghai edition.
With the support of nine Spanish heritage conservation organizations, the exhibition provides a comprehensive review of Gaudi's personal experiences and career through more than 200 exhibits.
The exhibits, including the tools used by Gaudi in architectural design, notes based on his creative inspiration and historical photos, videos and design drawings of his buildings, are all on show to Chinese audiences for the first time.
"Unlike paintings, architectural works cannot be placed integrally in the exhibition hall," says Li Liyang, a representative of the exhibition curatorial team.
Li adds that the show draws on many elements of Gaudi's architecture, and guides the audience to gradually explore his works at each stage of creation through different exhibition layouts, scene settings, video data, and the ingenious use of light and shadow to create an immersive experience.
According to Zheng Xiuquan, deputy general manager of the China Arts and Entertainment Group Ltd, since 2021, the Meet You Museum has brought rich, colorful cultural and artistic experiences from around the world to Chinese audiences. It has presented cultural exhibitions, immersive experiences, cultural and creative products, and research and education initiatives.
Zheng says he hopes that the Gaudi exhibition will also encourage more Spanish people and artists to visit China and understand the country.