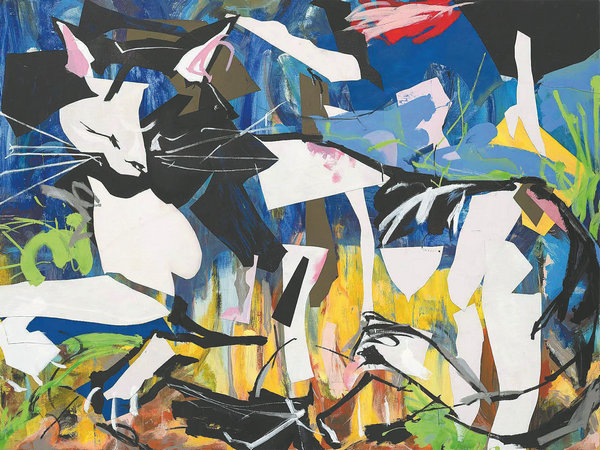 Art show highlights the role cats have played in Eastern culture and their connection with humans, Xu Haoyu reports.
The connection between cats and humans in the East can be traced back more than 2,000 years, as evidenced in the poem Han Yi from the Western Zhou Dynasty (c. 11th century-771 BC), which mentions cats.
Cats have gradually evolved into pets with huge emotional and cultural significance. The literary and artistic expressions and representations of cats throughout history are uniquely insightful.
The exhibition Cats of the East, held in Beijing 798 Art Zone, presents the charm of our feline friends in diverse and artistic ways through vibrant works from home and abroad. It explores the various possibilities of artistic media, conveying the cat's symbolic imagery, cultural associations and emotional appeal through the ages.
At the entrance to the exhibition hall, an animated short film unfolds a scroll depicting idyllic "cat fun" through the form of ink painting — some cats can be seen lazily lying or sitting on the floor; some quietly watching the change of seasons.
The exhibition deconstructs the Chinese character mao (cat) through the form of calligraphy, using different script types to demonstrate ancient people's understanding of cats.
Another highlight is a video, which tells the story of people's first encounter with the Persian cat. The seven-minute-long animation, created by students and teachers from the School of Animation and Digital Arts at the Communication University of China, presents humanistic images of courage, innocence, and love associated with the animal.