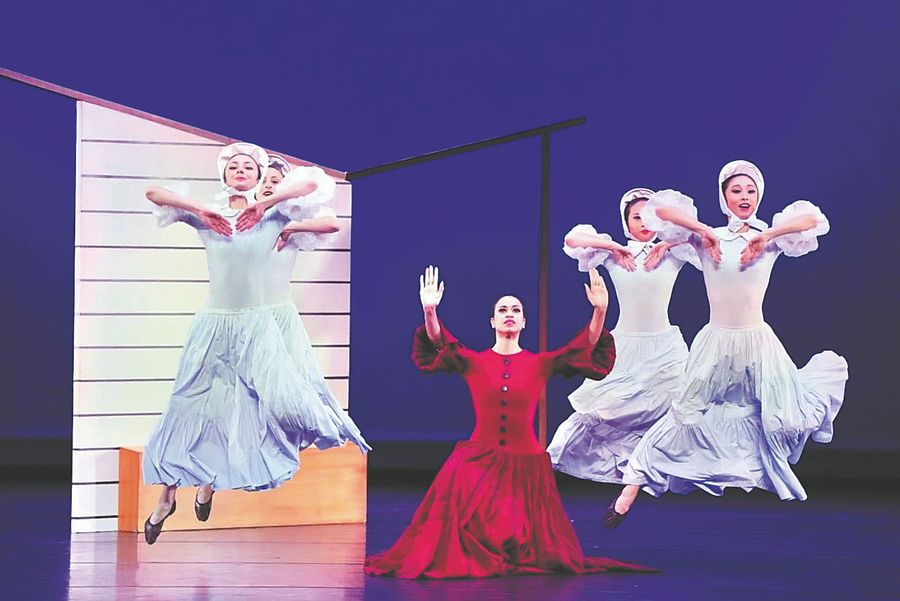 "The technique of Martha Graham has been learned and has influenced many dancers worldwide. It keeps growing and transforming into something new because new generations of dancers come up, who practice and use the technique with their own understanding, their own bodies and their own breath," says Knight.
For Xin in particular, the trip back to her home country is very emotional.
"We arrived at the hotel in Beijing during midnight on Tuesday. My mother was there waiting for me. Both of us cried the moment we saw each other. I am finally home," says Xin, adding that the company's tour in China has been postponed over and over again since 2020.
"I brought my daughter back this time, which is her first time to China. She is also very excited because though she was born in the US, I keep telling her stories about China and she is always interested in her home country," she adds. "Every morning when I take her to school, she asks me 'are we going to China now?'"
Born in 1985 in Yichun, Northeast China's Heilongjiang province, Xin loved dancing since she was about 5 years old. Her mother supported Xin's passion for dancing and found a teacher in Harbin, sending the then 7-year-old Xin to learn traditional Chinese dance. In 1997, Xin went to receive further training at a dance school in East China's Shandong province. In 2000, she was admitted by the first choreography class in Nanjing University of the Arts, where she learned contemporary dance and became aware of Martha Graham, who is recognized as a primal artistic force of the 20th century, alongside painter Pablo Picasso and composer Igor Stravinsky.
After graduation in 2004, Xin joined the faculty of Sichuan University of Culture and Arts. The massive catastrophe — the magnitude-8 earthquake in Wenchuan on May 12, 2008 — made Xin decide to take a big step. In August 2010, she gained a full scholarship from the Martha Graham School in New York. After another year of hard work and training in all kinds of dance, Xin became a member of the Martha Graham Dance Company. Today, she is the only Chinese dancer with the prestigious company and the first principal dancer of the company from the Chinese mainland.
"Traditional Chinese dance taught me how to move my body and how to use my qi (energy). It also introduced me to the world of traditional Chinese culture, such as calligraphy, ink paintings and traditional Chinese operas, which I love very much," says Xin. "Those also inspired me when I became a contemporary dancer, making me a unique dancer after I joined the Martha Graham Dance Company."