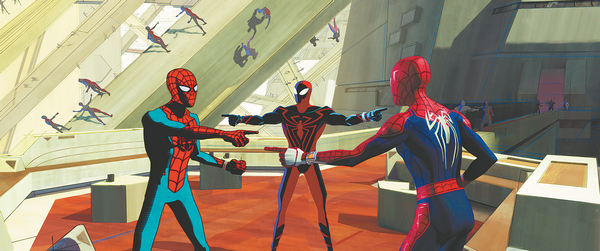 For American actor Johnson, who again lends his voice to Parker, it has been a long journey to bring to life this version of superhero, who is struggling with a midlife crisis.
"We had been working on this movie for about three years. The animators had been working hard, making cuts and changes constantly. When they made changes, they wanted new options for the voice acting. That's why we were brought in early on, even when there were just scratch drawings — really rough versions of the animation. As the animation got closer to the final version, we came back and kept recording to make everything work together," says Johnson.
"It's like a dance between the characters, the story and the animation. I think they want to make sure everything works in sync," he adds.
For director Thompson, who had also served as the production designer of the first Spider-Verse movie, the new film gave them an opportunity to pay homage to some of the most brilliant comic book artists who had adopted their unique art styles to tell the Spider-Man stories.
In the movie, such homages could be seen in the hometown of an Indian Spider-Man, who lives in a fictional community, which looks like a kaleidoscopic hybrid of Manhattan in New York and Mumbai, and Spider-Punk, whose world is easily reminiscent of 1970s London.
"The first movie was experimental and broke so much new ground, taking many risks. As an artist and filmmaker, being given the chance to take those same kinds of risks and go even further than before is exciting," says Thompson.
For the director, Stacy's world — which is expected to remind audiences of Manhattan's Chelsea neighborhood in the 1990s — was one of the most difficult to bring to life.
"The decision to open the film in a dynamic watercolor world (Stacy's universe) that changes based on her mood required a lot of experimentation. It was one of the first things we started working on for the film, and also one of the last things we finished in terms of the visuals for the entire movie. It took the entire production process to get it to a place where we felt it was just right," adds Thompson.
The voice stars also faced challenges with the many action scenes in the movie, such as conveying the feeling of having gone through intense physical activity while the heroes swing from building to building.
"It's not easy to do just by standing in a booth without the opportunity to physically act out what these characters are doing on-screen. I mean, I can't swing from buildings while fighting crime, but I have a method that I practice differently every time," says Steinfeld, who voices Stacy and her Ghost Spider alter ego.
The 26-year-old American actress adds that sometimes she would run around in a circle or do a couple of push-ups or jumps to get out of breath and portray exhaustion or frustration accurately.
Although, over the course of six decades, there have been numerous iterations of Spider-Man's story, the movie writers believe that the new tale has enabled them to satisfy their aspirations for innovation.
"I grew up in comic book shops," says Lord. "So, for me, what I love about comics is that you can really see the hand of an individual artist or writer reinterpreting these stories. The comics I liked the most were the ones that had the most personality and individuality in their artistic expression. They weren't beholden to trying to imitate an earlier version, but rather allowed a new version to flourish.
"That's the central metaphor of this new movie — can a new version of Spider-Man, Miles Morales, be allowed to flourish? Can the differences between his story and everybody else's story also be allowed to thrive?" he continues.
Consecutively topping China's single-day box office for five days, the new Spider-Man story has seemingly flourished, heating up the competition for summer blockbusters in the country, the world's second-largest movie market.
On its opening Friday, this movie surpassed two highly anticipated Japanese animated movies: a remastered version of Hayao Miyazaki's 1986 classic Castle in the Sky, and Doraemon: Nobita's Sky Utopia, the 42nd installment of the long-running franchise. As of Wednesday, it had already grossed 160 million yuan ($22.5 million).