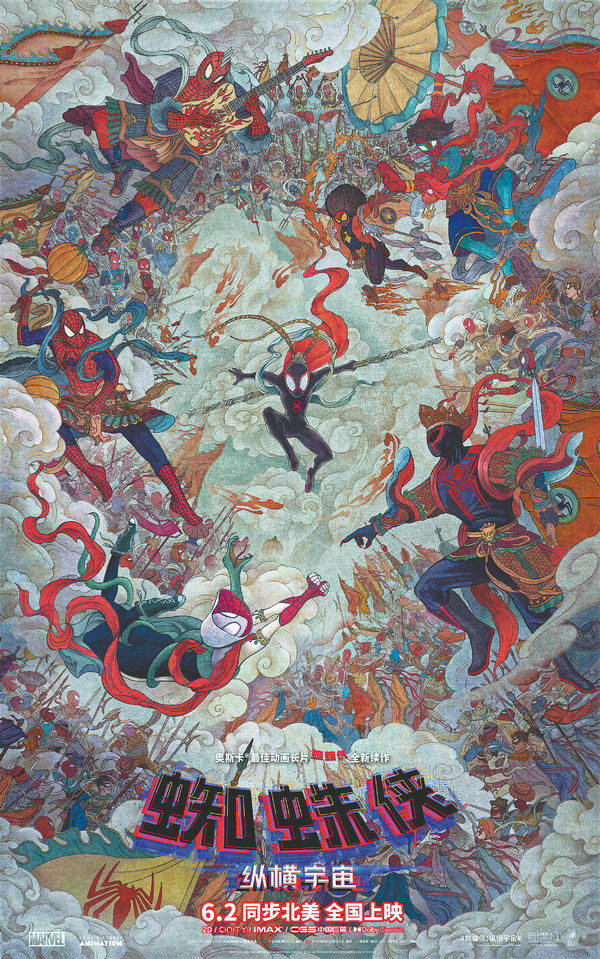 The gathering of around 280 variations of the comic book icon has become one of the biggest highlights of the movie. They include an Indian Spider-Man, Spider-Punk who carries an electric guitar, and a pregnant Spider-Woman riding a motorcycle.
Jointly directed by Justin K.Thompson, Kemp Powers and Joaquim Dos Santos, the 140-minute animated movie features Shameik Moore reprising his role as the teenage protagonist, Morales, with Hailee Steinfeld voicing Stacy and Jake Johnson voicing Peter B. Parker, the Spider-Man who trains Morales how to use his powers in the first movie.
Alongside Phil Lord and Christopher Miller, two of the three scriptwriters, the eight major cast and crew members shared behind-the-scenes stories of the new movie with China Daily during online interviews held over two days in late May.
Director Powers, a native of New York, says that he has been a big fan of Spider-Man since childhood. He explains that all the fights depicted in the comic books made him feel like Spider-Man is a neighbor responsible for protecting his own community.
However, the new movie has greatly expanded the superhero's range of activities. Powers says they made this breakthrough because they wanted "everyone in the world to feel like they could see Spider-Man in their own community when they leave the movie theater".
Recalling that he studied Chinese cities on the internet, Powers says he has discovered that Pudong district in Shanghai has many skyscrapers, adding that he is looking forward to featuring a Spider-Man from China in future projects, since they have already created so many versions of the web-slinger from different worlds.
In an interesting twist, Parker's Amazing Spider-Man — a jaded, slovenly character in the first film, aside from serving as a mentor to Morales, becomes a father in the new movie. He appears wearing pink pajamas over his iconic Spider-Man suit and is more preoccupied with taking care of his mischievous baby than superhero work.