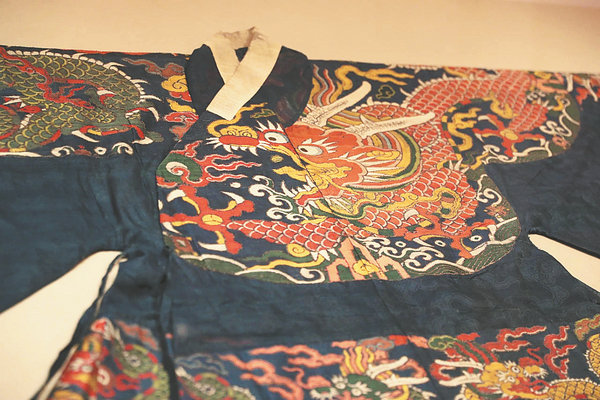 Art of dressing
People of high social standing in ancient times would put on different styles of outfits in accordance with the occasions they were to attend. For instance, the jifu, or "auspicious robe", used to be worn for ceremonies of celebration such as birthdays, weddings, banquets and festivals.
A rare specimen of the kind from the Ming Dynasty (1368-1644), blue with an intricate, patterned overlay, has been added to Ancient Chinese Culture: Costume and Adornment, a long-term exhibition at the National Museum of China in Beijing.
The robe was a heritage item passed on through the generations of Confucius' family, and used to be kept successively at the Confucius ancestral hall in Qufu, Shandong province, and the city's Confucius Museum.
Another new object on show is a gold buckle featuring dragon patterns, dated to the Eastern Han Dynasty (AD 25-220). The object is from the collection of the city museum of Tianshui, Gansu province.
Opened in early 2021, the exhibition at the National Museum of China presents the changing variety of textile production techniques, dress styles and aesthetic views on costumes and ornaments throughout the centuries. It also explains the relationship between clothing and social hierarchy, conduct and etiquette.
9 am-5 pm, closed on Mondays. 16 East Chang'an Avenue, Dongcheng district, Beijing.010-6511-6400.