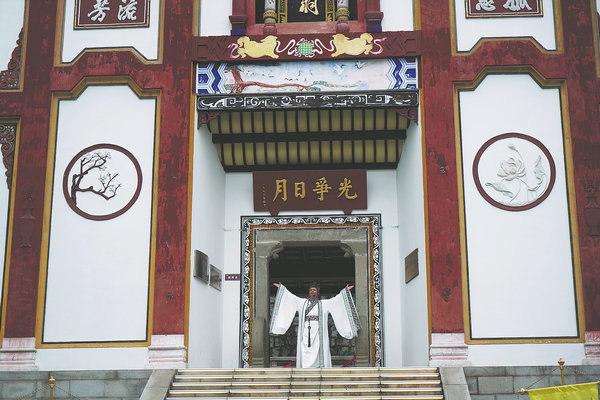 When the vessel reaches the other side, it enters Zigui county, the hometown of Qu Yuan, a patriotic poet from the Chu state during the Warring States Period (475-221 BC).
Legend has it that when the Chu state was doomed to be conquered by its rivals, Qu Yuan drowned himself in the Miluo River on the fifth day of the fifth lunar month, which is now known as Duanwu, or the Dragon Boat Festival.
On this festival, people around the country commemorate Qu Yuan by racing dragon boats and eating zongzi, a glutinous rice dumpling wrapped in bamboo or reed leaves.
After going ashore, the next stop is the Qu Yuan Temple, which was originally constructed during the Tang Dynasty (618-907) and rebuilt several times.
At the entrance of the traditional gate, with its exquisite decorations, an old man dressed in white attire, playing Qu Yuan, recites aloud the man's poetry, which echoes with rich Chinese philosophy.
There, onlookers can also have a bird's-eye view of the dam, situated a mere 600 meters away. The sight of this engineering marvel, together with the ambience of the gate, is unforgettable.
Zigui is also well-known for its juicy and sweet navel oranges, with an annual output of one million tons. Thanks to the presence of various orange species, these mouthwatering fruits are available throughout the year.
In Qu Yuan's poem Ju Song, or Ode to An Orange Tree, he praised an orange tree grown in the Chu state, which stood as a metaphor for the poet's own character, morals and pursuit of dreams.