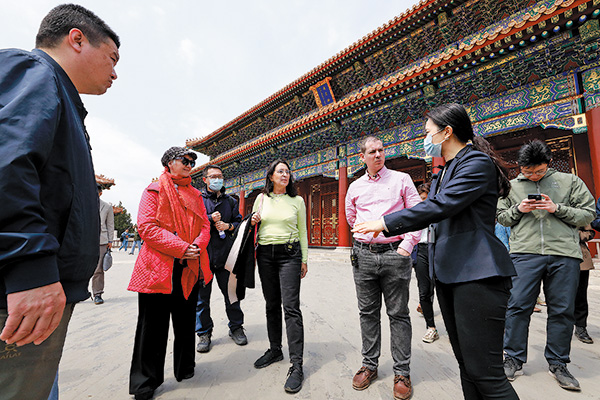 Elsawy Ahmed had an immersive experience of the historical sites along Beijing's Central Axis in late April.
The professor from Egypt's Benha University got a close-up experience of the magnificent architecture and local customs in the surrounding area, including the Forbidden City, Jingshan Park, the Drum and Bell towers, and the Temple of Heaven.
During the tour, Ahmed was impressed by the exhibition featuring the history of the Bell and Drum towers, a drum performance and ancient timekeeping technology.
"Chinese culture is ancient and unique, which is fascinating,"Ahmed says, adding that he gained more insight into China's ancient culture and history.
The Egyptian professor has visited China more than 20 times, and he has traveled to a number of cities, including Beijing, Shanghai, Heilongjiang province's Harbin, Gansu province's Lanzhou and Ningxia Hui autonomous region's Yinchuan.
"Each city has its own characteristics, the streets are so clean and tidy, and the residents are courteous," Ahmed says.
Ahmed was one of the nine international judges who were invited to participate in the final evaluation meeting of the first Orchid Awards that concluded on April 27.
The awards were initiated by the China International Communications Group and are aimed at promoting exchanges and interactions between China and the world, as well as fostering mutual understanding among nations.
"The intention of the CICG initiating the Orchid Awards fully aligns with the connotations of the Global Civilization Initiative, which is an important practice to promote the prosperity of the world civilization and the construction of a community with a shared future for mankind," says Du Zhanyuan, president of the group.
Du points out that, amid the current complex and challenging international situation, cultural exchanges and mutual learning among civilizations are more important than ever.