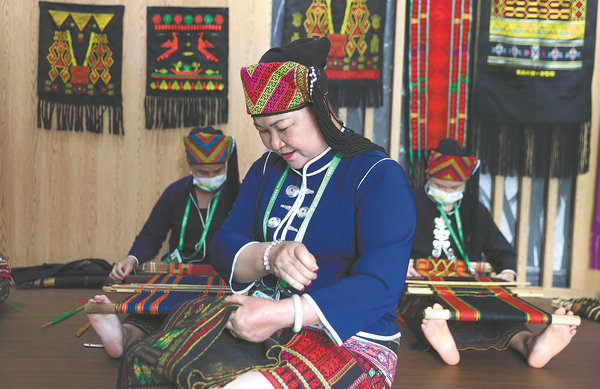 Liu Xianglan, a national representative inheritor of the traditional brocade artisanship of the Li ethnic group in Wuzhishan city, South China's Hainan province, demonstrated traditional spinning, dyeing, weaving and embroidery skills with a waist loom during the Milan Design Week 2023.
At the invitation of the event's organizers, Hainan brought its Li ethnic culture exhibition and traditional activities to the event on April 17. The display lasted until April 23.
At the display, models wore Li ethnic clothes, scarves and handbags in both traditional and fashionable styles. "These cultural products have shown the diverse styles of Li brocade and the modern vitality of our traditional culture," says Liu. "I feel so honored to bring Hainan's Li ethnic culture abroad, and I am glad to see our culture have exchanges and cooperation with the world's fashion industry.
"Many curious spectators were wowed by our Li brocade, and they told me that they couldn't imagine how, with such a seemingly simple tool, we Li people can weave those beautiful, classic patterns," she adds.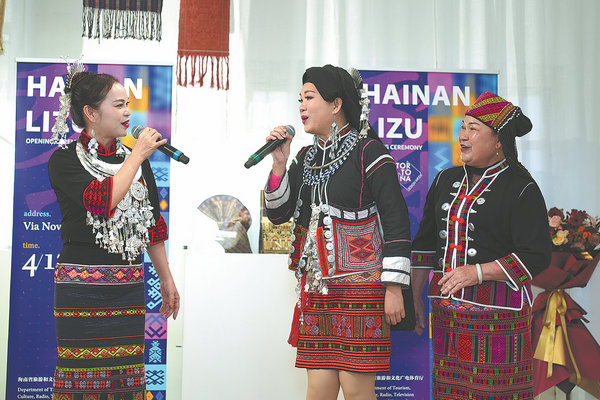 "Li brocade is so beautiful," Francesco Caprini, cultural adviser to the deputy prime minister of Italy, says, praising the craft during a visit to the event.
In the Li ethnic group, women are expected to be adept at weaving the signature brocade. The textile technique is usually passed down from mothers to daughters from early childhood through verbal instruction and personal demonstration. With their imagination and knowledge of traditional styles, Li women design and make their own Li brocade patterns.
Liu, 54, a resident in Fanmao village, Wuzhishan, began to learn the weaving techniques from her mother at 13 years old.
"My grandmother passed it on to my mother, and my mother taught us. Among my sisters, I was the one who cared most about the patterns and colors of Li brocade," she says. "Throughout the years, I went to nearby villages, and even cities and counties, to study different patterns, so as to better inherit this cultural heritage."
In June 2009, Liu was named a national representative inheritor of the traditional Li brocade technique. Four months later, UNESCO included the craft on its intangible cultural heritage list, declaring it to be in urgent need of protection.