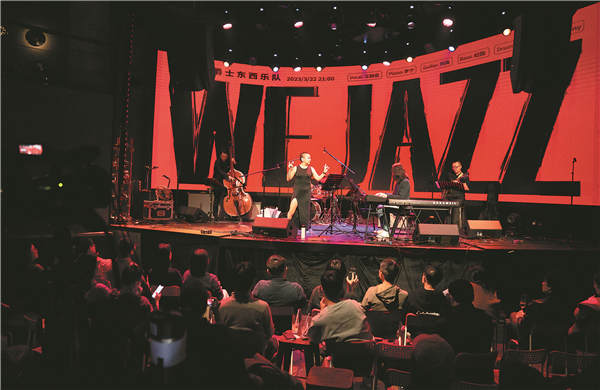 Forum staged
In April last year, the owners of more than 80 live house venues across China attended a three-day forum at On The Way, a popular live music venue in Hefei, capital of Anhui province. The event was one of the first of its kind in the country to highlight such venues, examine the way they operate, and the problems they face.
Zhu Ning, the forum's initiator and co-organizer, said, "China has about 100 live house venues, not only in the bigger cities, but also in third- and fourth-tier locations."
In Chengdu, capital of Sichuan province, Little Bar, which was founded in 1997, is one of the oldest live house venues in the country.
Zhao Lei, a singer-songwriter and guitarist known for his ballads, used to appear at Little Bar as a resident performer. Now, Zhao has many fans around China and features in concerts at large stadiums.
A number of live house venues emerged after 2000, including Star Live in downtown Beijing, which opened in 2006, and Mao, which launched in the capital in 2007. Mao later expanded to nine cities, including Shanghai, Guangzhou, capital of Guangdong province, Hangzhou, the Zhejiang provincial capital, and Xi'an, capital of Shaanxi province.
Established Chinese rock musicians and bands such as Cui Jian and Xie Tianxiao, as well as international artists and bands, including Sonic Youth from the United States and British singer-songwriter James Blunt, frequently gave shows at these venues, with the vibrant music scene growing fast as a result.
Zhu said: "These live house venues make music lovers feel totally at home. The atmosphere is relaxing and the audiences are there for the music. More important, these venues act as incubators for emerging bands, which are crucial for development of the country's indie music scene. Many well-known rock bands started out by performing at live house venues."
The first part of Zhu's career saw him performing as a drummer with the rock band SMZB from Wuhan, capital of Hubei province. In 2005, he opened VOX, a live house venue in Wuhan. Vox, which has just marked its 18th anniversary with a series of live performances, is the oldest and one of the best-known such venues in the city. Wuhan's location in the heart of China also makes it a "must-stop" destination for many rock bands planning nationwide tours.
"China's live music scene has evolved significantly in the past decade. Live house venues offer a mix of different types of artists, helping the diverse music scene in China to grow," Zhu said.
"However, not all these venues survived. This was due to many reasons, including a lack of live shows and unsuitable marketing strategies. Things became worse after the pandemic struck in early 2020, forcing many live house venues to close."
One of the best-known such venues in China is School, tucked away in a narrow hutong in downtown Beijing.
In 2019, the popular reality show The Big Band premiered on the streaming platform iQiyi, propelling many Chinese indie rock bands to stardom. In 2020, the second season of the show aired, receiving warm feedback from audiences and enabling more indie bands to make headlines.
Since then, School, the home and birthplace of numerous bands that have appeared on the show, has become a must-visit venue for music lovers from around China.
Liu Fei, a former concert organizer who founded the venue in 2010, said that in the absence of live shows during the pandemic, School was supported financially by being transformed into a bar. Liu even considered resorting to food deliveries when he was under significant financial strain.
He said he is grateful for the support from fans, who have bought many souvenirs at the venue.
On Dec 19, School announced on its social media account that live shows would soon resume at the venue. Liu stated in the announcement: "Rock 'n' roll is coming back!"
Speaking later, he said: "I am a big soccer fan. On Dec 19, my idol, Lionel Messi, kissed the World Cup trophy after Argentina defeated France in the FIFA World Cup final in Qatar. School also announced its imminent return. It was the best day of my life to date."