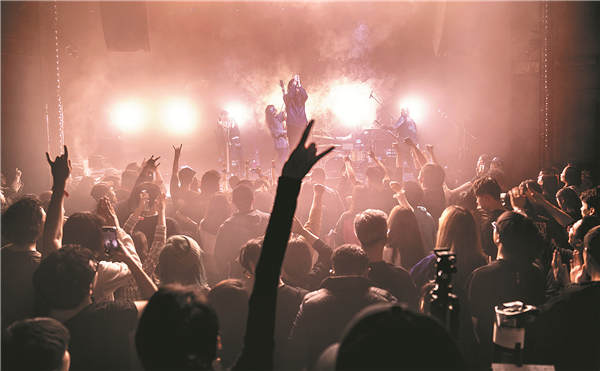 Staff recruited
In June, the new DDC venue launched in Beijing, with the first floor covering 400 sq m and accommodating a maximum of 400 fans. The second floor occupies 200 sq m and can house 200 people.
"When we closed our first venue in 2020, all the staff members left and found other jobs to make a living. When we were preparing to open the new venue, we recruited fresh staff and designed a new stage. Everything was new," Zhang said.
"Live music venues have been hit hard, as have indie bands. It is much more challenging for emerging musicians to develop their talent without live performances."
Live music is back, bigger than ever. Indie rock bands such as Miserable Faith, Dada and Joyside, who had to postpone tours repeatedly due to the pandemic, have rearranged them for stadiums and live house venues. Folk singer-songwriters, rappers and pop stars, including Chen Hongyu and Chen Chusheng, are also making delayed appearances at live house venues nationwide.
Li Lin, general manager of Show Start, an event organizer dedicated to performances at live house venues and also a ticket-selling platform, said, "I'm still assessing the situation, because what has happened in the past three months is not representative of the entire live music scene in China.
"All the live house venues I know are fully booked. All the bands I know are trying to perform as much as possible. Audiences are trying to have as much more fun as possible, because they have had to wait for such a long time," Li said.
He added that there are some seven live house venues in Beijing, which have staged shows almost every day for the past three months.
"As far as I know, many live house venues survived the pandemic because they continued to stage live shows, although the number of such performances dropped drastically and the venues only opened to a limited capacity," Li said.
"Theaters, music halls and nightclubs were among the first venues to close, and there is every indication that they are last in line for a return to normal."
Li said about 20,000 performances were staged at live house venues in China in 2019, the year before the pandemic emerged. The number is expected to reach 30,000 this year. He added that in 2019, live house ticket revenue reached nearly 400 million yuan ($58 million), a year-on-year rise of about 50 percent.
China's Ministry of Culture and Tourism announced that from Feb 16, applications for commercial appearances involving performers from Hong Kong, Macao and Taiwan could resume. Applications for commercial performances involving people from overseas resumed on March 20.
Li said: "This is great news for the performing arts scene. Since international artists and bands usually prepare overseas tours at least a year in advance, I believe that live house venues will stage more shows featuring international artists and bands next year."
Compared with large stadiums, where big-name rock stars and bands perform to large numbers of fans, small live house venues offer music lovers an intimate and immersive experience. Li said the latter venues are great places to get to know new bands, and their ticket prices are much cheaper than those at large venues.
In early January, Li watched his first live music show of the year at Beijing's Yue Music Space, a live house venue near Yonghegong, or Lama Temple, where he met his longtime friend Shen Lihui, founder and owner of Modern Sky, one of the largest indie record companies in China.
"It's good to meet people again and see our audiences returning," Li said.