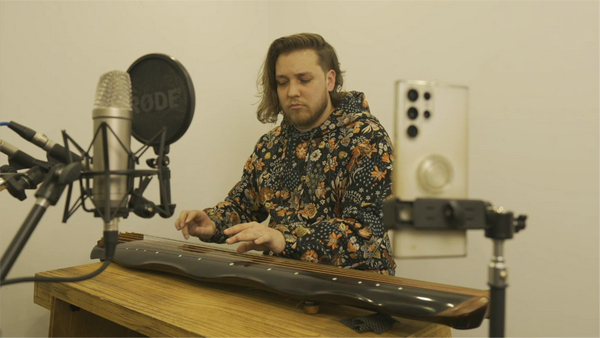 The history of the guqin dates back as far as 3,000 years ago. However, more young people are now bringing this ancient musical instrument back to the fore. Jacob Charles is a Mexican-American intermedia artist, composer and guqin player. He fell in love with this seven-string Chinese zither and has been working to infuse it with more modern elements.
As an indispensable part of highbrow culture in ancient China, the guqin has been played by noblemen for many centuries. Charles hopes to popularize this traditional Chinese instrument, and enlighten more people about the fascinating nature of Chinese culture.
The guqin has long been associated with the literati. Playing it is considered one of the four classical arts in China, along with chess, calligraphy and painting.
Learning this art requires considerable patience. Charles said he has dedicated himself to creating a new musical language, one that conveys both a sense of tranquility and the plurality of combining various disparate elements.
In 2014, he was admitted to the Central Conservatory of Music in Beijing for advanced music studies focusing on the guqin and composition. Later, he assumed a role there as a lecturer.
He said teaching and studying at the conservatory gave him the opportunity to study and communicate with a host of professors, which helped him shape his unique style.
With a background in creating digital music on computers, Charles can easily incorporate other mediums, such as extended reality, AI, and 3D art, into his musical compositions.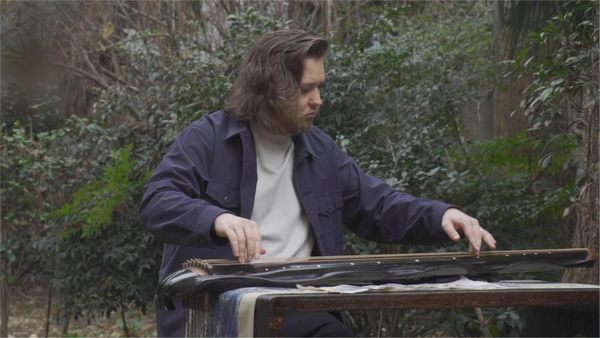 One of his works titled "Lan," which translates as "decay" in English, reflects some of his experiences over the years. His use of the guqin, in combination with multi-media technology, gives audiences a brand-new experience.

He said artists from all backgrounds are welcomed to improve and create performance works at his workshop.

Charles has also developed a keen interest in other Chinese instruments. He once studied Nanyin music in Quanzhou City of Fujian and learned about Uygur Muqam melodies in Urumqi, Xinjiang Uygur Autonomous Region. He said traveling to various parts of the country has opened his eyes to China's diverse musical traditions.
Charles notes how the sounds produced by the guqin are very different from those in Western classical music. He said it requires considerable patience to understand the beauty and aesthetics behind this ancient instrument, which makes much play of subtlety and quiet interludes.