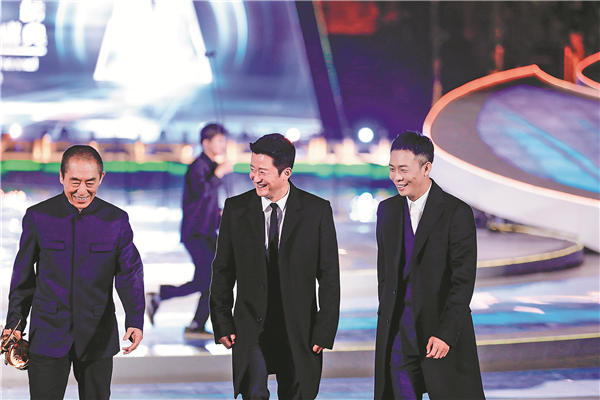 After weathering the storm, prospects appear far more promising as new talent emerges, Xu Fan reports.
In traditional Chinese culture, spring is seen as a season of hope and possibility. With the country emerging from the grip of the COVID-19 pandemic, celebrities are optimistic about the future of China's film industry, believing that it has weathered the winter, in more senses than one, and is poised for a new beginning in spring.
China Movie Channel, the country's most influential movie broadcaster, held an award ceremony recently for winners of 14 categories of its latest M-Chart awards, an annual honor that recognized the most outstanding movies and their makers between 2022 and 2023.
The ceremony, which was held in Jingzhou, Hubei province, on April 9, was concurrently held with a show to highlight the significance of big data for the movie industry. Initiated in 2019, the annual M-Chart awards are selected through a combination of big data analysis and the opinions of experts and audiences, according to the organizers.
With the war epic The Battle at Lake Changjin franchise, which grossed an overall 9.84 billion yuan ($1.4 billion) from two installments, Huang Jianxin — a veteran filmmaker credited with participating in 83 movies and producing 46 features within 45 years — took home the annual outstanding producer award.
Some other notable annual "outstanding "awards went to a group of A-listers, including Wu Jing and Zhang Yi, who jointly won the best actor category; Xi Meijuan and Yuan Quan, who jointly took the best actress entry; and Yi Yangqianxi, who scooped the most influential actor award.
"This year's Spring Festival holiday ushered in a good start and also brought about the revival of China's film industry," Huang says during an interview with Chinese reporters.
Speaking of the highest-grossing blockbusters during the holiday, ranging from historical suspense Full River Red to sci-fi sequel The Wandering Earth II and animated feature Boonie Bears: Guardian Code, Huang says the genres of Chinese films are becoming increasingly diversified.