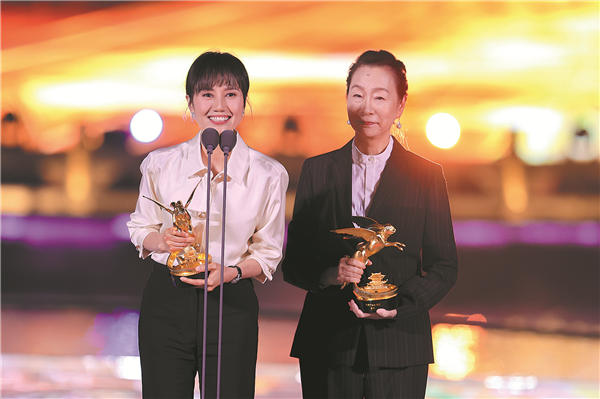 The director recalls that he felt quite surprised at the success of Full River Red, which has grossed more than 4.5 billion yuan since it opened on Jan 22.
"I had several private conversations with my actors, telling them that I felt like I was a director who could make a single film that could earn over 1 billion yuan. But if one of my works could exceed 2 billion yuan at the box office, I would consider it as a great victory. So, it's really beyond our expectations this time," says Zhang Yimou.
The prolific director also reveals that he will begin shooting a movie regarding people's livelihoods and the rule of law in June, and his intense schedule also includes directing League of Legends, an online drama that is inspired by the eponymous video game, in September.
Zhang Yimou reveals that directing League of Legends marks his first time helming an internet series, adding that he doesn't feel that shooting for streaming platforms or TV channels is inferior to directing a movie for theaters.
"I take delight in exploring various types of stories, even though I have never played the game myself. I consider esports tales to be a new genre for me. My aim is to create something that is both cool and stylish, while also maintaining a fast-paced rhythm," he says.
With the unprecedented expansion of the internet industry, most filmmakers, including the celebrated winners, say they feel the traditional movie industry, which has a history of more than 100 years, is being increasingly impacted by various aspects of the internet, ranging from big data to emerging artificial intelligence technologies.
Hu Mei, one of the most well-known female directors in China, says domestic film companies have come to rely on big data throughout the entire production process, from script writing to market promotion.
"Big data can be particularly helpful during the later stages of a movie's distribution, as it allows distributors to estimate the film's market share in comparison with others set to be released in the same month or week," she explains.
However, producer-director Huang says he believes that big data is like "a double-edged sword", which may benefit investors but could possibly hinder the creativity of storytellers.
Mentioning that he was astonished to hear the AI applications such as ChatGPT could create a video in merely a few minutes, Huang says that, as a result, filmmakers and industry insiders will face an even greater challenge in this era.