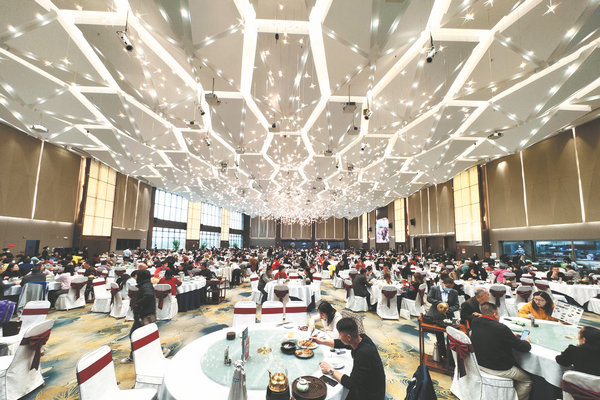 Draft paper urges restaurants to include weights on menu and moderate orders
Banquets have been made a focus in a recently released draft guideline for curbing food waste. The draft, currently soliciting public input, is the latest in a series of efforts by the Chinese government to promote a more sustainable approach to food consumption and encourage responsible practices in the restaurant industry.
The draft contains eight categories of measures. They include the clear indication of prices and weight, reducing waste at banquets, perfecting the evaluation system for dining establishments and improving industry self-regulation.
The draft requires that restaurants take steps to reduce food waste at banquets. Restaurants must clearly mark the price of each dish in banquet packages and discount information if applicable. Catering companies hosting banquets are required to include policies aimed at reducing food waste in their contracts.
Restaurants are also required to eliminate minimum spending requirements and indicate the number of diners that each package is designed for. They are also urged to provide free containers for taking leftovers away.
The draft calls for increased monitoring of large-scale banquets, particularly those offered by hotels and those that charge more than 1,500 yuan ($220) for each table, excluding drinks. Authorities shall conduct random inspections to ensure that the protocols are being followed, according to the draft.
Lu Shijun is a researcher at the Institute of Food and Nutrition Development of the Ministry of Agriculture and Rural Affairs. He told Xinhua News Agency that the price and weight being clearly marked not only ensures transparency for consumers but helps them to order appropriate portions and reduce waste.
Banquet packages have been a "high-risk area" for food waste. Some consumers who value flamboyance, especially in front of friends, turn a blind eye to food waste regulations and advice from restaurant staff when ordering. They also hesitate to pack up leftovers for fear of being seen as stingy.
Thanks to a series of regulatory actions and nationwide campaigns launched in recent years to combat food waste, both restaurants and consumers have showed a greater awareness to save food.
On Tuesday, a resident of the Central China city of Wuhan surnamed Yang and nine friends dined at a local restaurant. They ordered nine dishes and spent a total of 888 yuan.
"The waiter kept reminding us to order fewer dishes according to the number of people, so as to avoid wasting food," Yang told Jimu News, a media outlet based in Hubei province.
When asked if he had heard of the government's plan to regulate high-priced banquet packages, Yang said no. But he added that he has noticed a marked decrease in food waste and more of his friends and family members have developed the habit of taking leftovers home.
He sees regulating high-priced banquet packages as a good thing for consumers, which can help alleviate their financial burden, according to Jimu News.
Yang Zhigang, general manager of restaurant chain Yanbo Yugang, told the Yangtse Evening Post: "We usually suggest that customers order dishes according to the number of diners. If they order too many, we will remind them to order more only if necessary."
If there are still leftovers, Yang said they will remind customers to take them home.
Liu Guoliang, chairman of the Wuhan Food and Beverage Industry Association, suggested that the guideline be refined according to the living cost and spending power of different regions, according to Jimu News.
People's Daily reported in 2020 that the amount of food wasted in China every year was about 35 million metric tons, which was close to 6 percent of the country's total grain output. The food waste generated in urban restaurants alone was 17-18 million tons, which is equivalent to the amount of food consumed by 30-50 million people in a year.