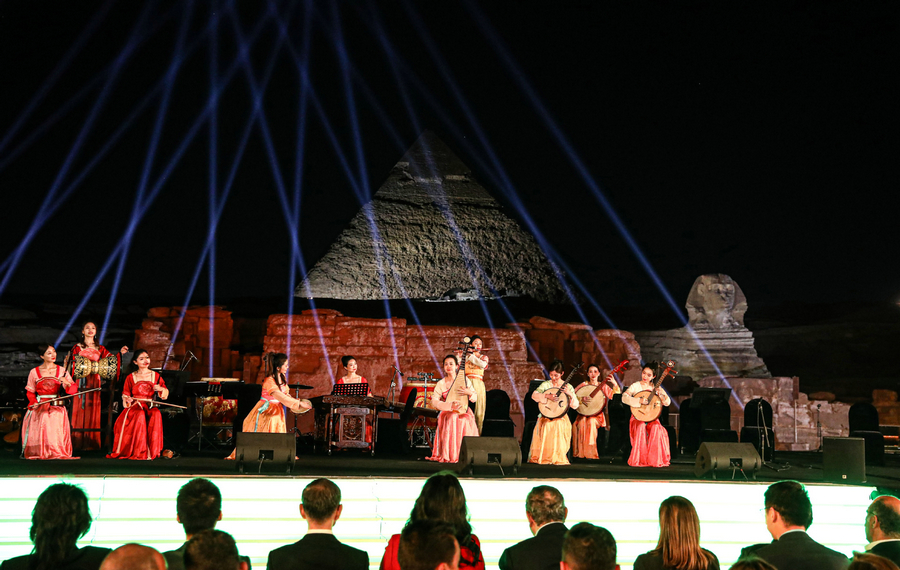 On a breezy Monday night in Egypt's Giza, artists from China and Egypt staged a folk music concert against the backdrop of the Grand Pyramids and Sphinx lit-up in silver, enchanting hundreds of audiences with beautiful melodies.
Banners reading "let the China-Egypt friendship flow forward like the Nile River" were seen at the venue of the China-Egypt folk concert, welcoming guests to such a unique show co-sponsored by the Chinese Ministry of Culture and Tourism, the Egyptian Ministry of Tourism and Antiquities, and the Chinese Embassy in Egypt.
The event was attended by Chinese minister of culture and tourism Hu Heping, Egyptian minister of culture Neveen Al-Kilany, Egyptian minister of tourism and antiquities Ahmed Issa, Chinese ambassador to Egypt Liao Liqiang, and some other 600 people from both countries.
The repertoire played by musicians from the China National Traditional Orchestra features classics and innovative works of traditional Chinese music, such as erhu unison Horse Racing, huagudeng big gongs and drums performance Umbrella and Orchid, and chamber music Dunhuang.
Chinese and Arab artists also jointly presented Impression of Roses, in which the Chinese pipa was played in an ensemble with the Arabian oud as a tribute to the instruments' same origin, creating breathtaking melodies that wowed the audiences.