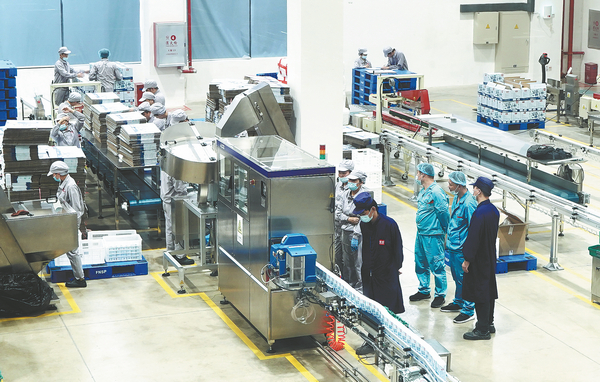 China's coconut-based beverage consumption is becoming so popular that enterprises are stepping up efforts to explore more product categories to grasp market opportunities.
According to a recent report from market research firm LeadLeo Research Institute, between 2017 and 2021, China's coconut-based beverage market surged from 10.3 billion yuan ($1.5 billion) to 14.4 billion yuan, with a compound annual growth rate of 7 percent. The market is estimated to reach 22.4 billion yuan by 2026, with a CAGR of 15.63 percent.
FreeNow, a Hangzhou, Zhejiang province-based coconut beverage provider, realized 100 percent sales growth in both 2021 and 2022. In 2022, the sales revenue of just its single product thick coconut milk — a coconut-based milk used in coffee — surpassed 1 billion yuan.
In 2020, the company originally introduced a coconut base into coffee and tea and generated consumer enthusiasm and market popularity immediately.
"In the past, according to our observations, thick milk and oat milk are also added to coffee. Consumers' choices for milk bases are becoming increasingly diverse," said Zhang Kai, founder and president of FreeNow.
"Consumers are open and tolerant to milk-based products. We noticed that many parts of a coconut can be used in beverages, which is why we introduced a coconut base into coffee and tea," he said.
Domestic coffee brand Luckin Coffee sold 420,000 cups of raw coconut lattes within one month after the launch of the product. In April 2022, when the raw coconut latte had been launched for one year, its sales volume surpassed 100 million cups, data from the company showed.
Industry experts said that apart from affordable prices, the reason behind the popularity of the raw coconut latte was that it conforms to the concept of a healthy lifestyle.
Hong Yong, an associate research fellow at the e-commerce research department of the Ministry of Commerce, said: "Coconut is a natural food, and coconut-based beverages don't contain additives. With consumers' rising demand for healthy and natural food, coconut-based beverages are gaining increasing popularity."
In addition, industry experts said that the taste of the raw coconut latte combines that of milk tea and coffee, winning the hearts of those who are not fans of the bitterness of coffee.
Many Chinese consumers are not used to drinking coffee regularly. However, they rely on the refreshing function of coffee. Raw coconut lattes not only keep the original fragrance of coffee and give a boost but offer a taste that is closer to milk tea, satisfying young consumers' demanding taste buds, they said.
On March 23, FreeNow, Luckin Coffee and the Coconut Research Institute of the Chinese Academy of Tropical Agricultural Sciences jointly launched a group standard of coconut milk, to boost the high-quality and sustainable development of coconut-based beverages.
The group standard sets up refined criteria for coconut milk, including the requirements for raw and auxiliary materials, appearance, and physical and chemical indicators, including soluble solids, fat, protein and additives. It also offers specific criteria to distinguish between coconut milk and thick coconut milk.
Companies are ramping up efforts to tap into the market. Free-Now, which produced thick coconut milk that can make 600 million cups of raw coconut lattes in 2022, launched two new products this year — coconut non-dairy cream and coconut puree. Compared with whipping cream, coconut non-dairy cream better suits consumers with lactose intolerance, while coconut puree can be widely used in tea beverages and the catering industry.
To raise production capacity, the company launched a new factory in Wenchang, Hainan province, in March. With an investment of 160 million yuan and eight production lines, the annual production capacity of the new factory is 100,000 metric tons.
"With coconut-based beverage consumption gaining increasing popularity, we will explore more consumption scenarios using a coconut base, including coffee houses, milk tea shops, homes and convenience stores," Zhang said.
To achieve sustainable growth, Hong suggested that coconut-based beverage manufacturers keep innovating product flavors, such as adding fruit or chocolate into the beverages, to satisfy demands of different consumers.
"Manufacturers may also diversify their distribution channels, such as using coconut oil in baking, replacing traditional sugar with coconut sugar and using non-dairy cream to make ice cream, to suit different consumption scenarios and meet demands of various consumers," he said.