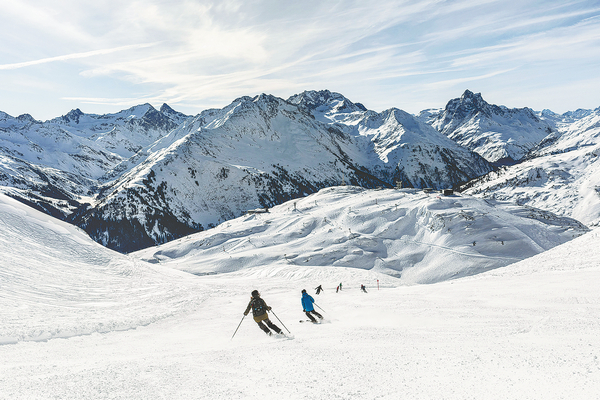 As winter sports have become more attractive to Chinese people, Alpine destinations have had the chance to form new collaborations in areas including business, cultural exchange, technology, and know-how, a top official of the Austrian state of Tyrol says.
Karin Seiler, managing director of Tyrol Tourism Board, said, "The Winter Olympics in Beijing and the province of Hebei (which hosted some of the skiing events) have shown China's competence to plan and to execute an international sports event like the Olympics at the highest standard."
There are clear "opportunities for the Alpine destinations growing out of this initiative", she said.
Hebei and Tyrol signed a partnership agreement in 2021 on the back of the Olympic links, as Chongli district in Zhangjiakou, Hebei, staged most of the skiing events during the 2022 Games. Tyrol's capital, Innsbruck, has twice hosted the Winter Olympics.
"The very origin of the cooperation is winter sports," Seiler said. "Skiing and snowboarding are the one big thing that triggered the whole idea from the beginning, and it keeps being its engine."
There are now many ways in which both parties can learn from each other, in addition to winter sports and its related industry sectors, Seiler said.
"Be it green energy, be it better mobility solutions, be it health technology or circular economy, be it the use of Olympic facilities for the years after and the construction of sustainable touristic destinations around these facilities, there are many ideas for and from both sides."
However, challenges remain for Hebei and for China as a whole when it comes to talking about fully fledged infrastructure and developing a long-term and intrinsic interest in winter sports, she said.
"In Tyrol we are very experienced in terms of capitalizing on major sports events. We are calling it 'winter-sports-culture' and it took many decades of development and steps in between."
Innsbruck first hosted the Winter Olympics in 1964, which established Tyrol as a key Alpine destination.
The city was chosen to host the 1976 Winter Games after Denver, Colorado, the original host city, withdrew at short notice.
Tyrol has also hosted many other sports events that have become pillars of its winter sports and tourism strategy, including the Hahnenkamm Downhill race in Kitzbuehel and the Ski World Cup in Soelden.
"All of them are closely connected to either our Alpine surroundings in general or to winter sports in particular," Seiler said.
"They contribute to the DNA of Tyrol as a touristic destination. This doesn't happen by accident. It is the result of many decades of work — for networks with other regions, for attracting guests, for comforting and benefiting the people living here in Tyrol."
Now that the pandemic, which has been the biggest hindrance to the partnership, seems to be nearing an end, Seiler said, there is hope that the collaboration will thrive, with the next two years set to be crucial.
"The main target now must be creating personal relationships in order to create intrinsic motivation for a benefit that lies many years in the future and that comes from a part of the world so far away. In the long term, I imagine that there will be solid partnerships for many different industrial and organizational branches, especially in the ice and snow industry. But more than that, I think we will develop cooperation with our universities and schools, on the level of destination development in many aspects."
With more and more people in China able to afford to travel and ski or snowboard, and with Tyrol a world leader in ski tourism, the development of such a source market will be of major importance to the region, Seiler said.
"As a result, our tourism marketing strategy as well as our winter sports industry strategy for China has shifted its focus from summer or all-year to a more winter focus. I am sure, with the ever-tighter cooperation with our partner Hebei, we will also benefit directly via attracting more winter tourists from China."