Silk Road Artists' Rendezvous, an art exhibit showcasing 87 paintings and ceramic pieces by Chinese and Arab artists, kicked off on Monday at the Palace of Arts in Cairo, capital of Egypt.
The exhibit, running through April 30, was co-organized by China's Ministry of Culture and Tourism, Egypt's Ministry of Culture, the League of Arab States and the Chinese Embassy in Egypt.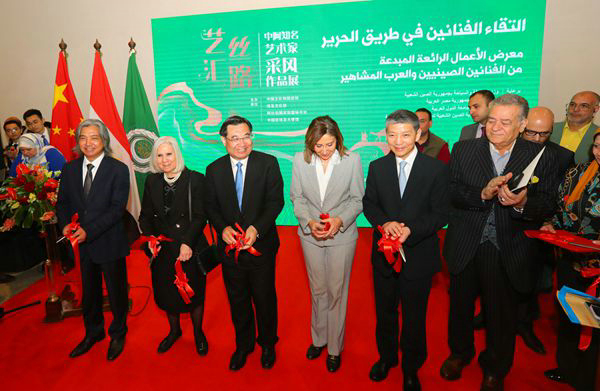 Chinese minister of culture and tourism Hu Heping, Egyptian cultural minister Nevine El-Kilany, LAS's assistant secretary-general Haifa Abu Ghazaleh and Chinese ambassador to Egypt Liao Liqiang attended the opening ceremony along with artists from China, Egypt, Lebanon, Jordan and Algeria.
Hu read out Chinese President Xi Jinping's reply letter sent on April 3 to a joint letter from over 50 well-known Arab artists who have visited China to gain inspiration for their creations.
"President Xi's reply letter spoke highly of the important contributions made by Arab artists to strengthening the people-to-people bonds between China and Arab countries, and once again advocated promoting exchanges and mutual learning between Chinese and Arab civilizations, and building a China-Arab community with a shared future for the new era," Hu said.
The Chinese minister also put forward five suggestions to promote China-Arab culture and art cooperation: More people-to-people exchanges should be held to promote mutual understanding; exchange channels should be broadened and cooperation mechanisms optimized; artists should delve into the cultural essence and reflect the style of the times; China and Arab countries should construct a cultural Silk Road to expand exchange and cooperation; and the global civilization initiative should be implemented to promote the progress of human civilization.
Egypt and China both have rich cultural heritage and both advocate respect for each other's cultures. Cultural cooperation has always been an important driving force for the development of bilateral relations and the enhancement of friendship between the two peoples, El-Kilany said in her speech at the opening ceremony.
She also remarked "the exhibit fully demonstrates the outstanding role of the Silk Road in promoting cultural exchanges among countries", and said she looked forward to the further deepening of cultural cooperation between Egypt and China.
Abu Ghazaleh said in her speech this event shows the strong will of Arab countries to strengthen cooperation with China in various fields and the LAS will be actively committed to promoting the sustainable development of Arab-China relations.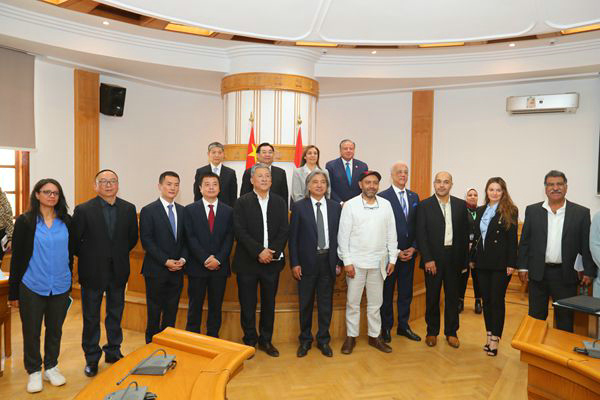 A Sino-Arab Artists dialogue was held after the inauguration ceremony. Famed Chinese sculptor Wu Weishan, director of the National Art Museum of China, shared the inspiration he found in his Arab tours, and several Arab artists shared what they learned from their China visits over the last 10 years.
"Silk Road Artists' Rendezvous" trips to China, initiated in 2009, are a major program held by China's Ministry of Culture and Tourism under the framework of the China-Arab States Cooperation Forum. Over the last 11 years, more than 100 artists from 22 Arab states have participated in this program and have contributed 487 paintings, sculptures and ceramic works.