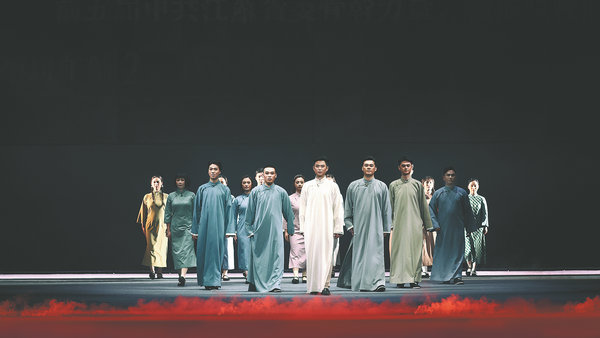 Like many young people of her age, Li loves watching TV dramas and movies, which also helps her gain a different perspective when it comes to her own work. Her fresh and unique style of storytelling and directing has won her lots of fans.
"Usually people consider traditional Chinese operas to be old-fashioned and boring. However, we have gained a large fan base with our productions at small theaters, which are contemporary, pioneering and have proved to be very popular among younger audiences.
"Our team has also made the Yangju Opera very modern, immersive and as engaging as hit movies and TV dramas," Li says. "We make it seem more like a thriller."
According to Wang Xiaobing, director of the Yangju Opera troupe, the ensemble was founded in 1953 and, in its 70-year history, has experienced a loss of talent over a protracted period, which has hindered the development of the troupe and the ancient art form.
"In 2015, we recruited new students and trained them. In 2021, they graduated and started performing with the troupe, with the youngest actor being only 18 years old," says Wang, adding that all the new actors and actresses were born after 2000. "When we prepared for the new production, the younger members of the troupe learned about Chen Yannian and they felt a resonance with him, since he was of a similar age, but lived a short life."
Wang notes that, compared to some other traditional Chinese operas, such as Peking Opera and Kunqu Opera, Yangju Opera appeals to a minority. After he became the head of the troupe in 2021, the vision has been to revive the ancient art form and expand its fan base.
In 2022, the troupe announced four new productions, including Chen Yannian 1927, all with the aim of attracting a younger audience.