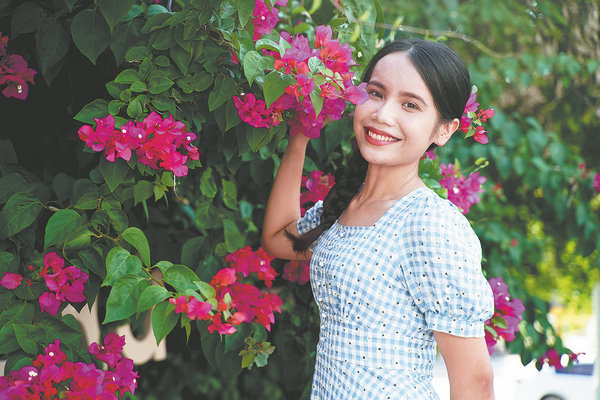 "I'm a foodie with a capital F," Zheng Yaling says in the latest installment of Gen Z's Words, an online program produced by 21st Century, a media organization affiliated with China Daily.
Zheng, 22, was born in Taiwan. But, because her parents are from different sides of the Taiwan Straits — her mother is from Fujian province, while her father is from Jiayi, Taiwan — she has felt the connection between the island and the Chinese mainland from a very young age.
Currently studying at Hunan University, Zheng has taken part in various cross-Straits exchanges but she's always wanted to do something food-related, since it's not only her personal passion, but also, she believes, a passion shared by people across the Taiwan Straits.
"Food is of utmost importance for folks on both sides of the Straits. With the same heritage and roots, we attach great value to what we eat," she says.
So, during this past Spring Festival, Zheng set up a stall on the streets of Taiwan's Beigang, to sell renaibao (hot rice cream), a trendy kind of "ice cream cone "filled with glutinous rice or red beans with sweet cream toppings that originated in Henan province.
Initially worrying that people would hesitate to try something they were not familiar with, Zheng was quickly overwhelmed by the enthusiasm of the crowd, some of whom even pitched in to help her sell the snacks. The sales easily exceeded her expectations — she sold more than 200 renaibao on her first day. Even after she had packed up her stall and got ready to go home, people kept coming and arranged a time with her to come back the next day.
But that was not all. Knowing that Zheng is studying in Hunan province, where it snows and which is famous for its spicy food, some customers would get curious and ask Zheng how she was faring with the weather and cuisine there. They would also share whatever they knew about Hunan, from the Zhangjiajie National Forest Park, where the movie Avatar was filmed, to whether the rumor is true that Chayan Yuese — a popular local milk tea chain — always has queues stretching out the door.
"It was not just a business," says Zheng. "I was deeply affected by the enthusiasm of everyone I met."
This enthusiasm, Zheng believes, is thanks to online video platforms like TikTok, Xiaohongshu and Bilibili. According to her, she and her high school friends used to watch online cooking videos together of, for example, the Tianjin-style jianbing guozi — known as Chinese crepes. They were so obsessed with it that Zheng can still remember the process, step-by-step, in detail. Among her customers were also those who learned about the snack she was selling from just such a video.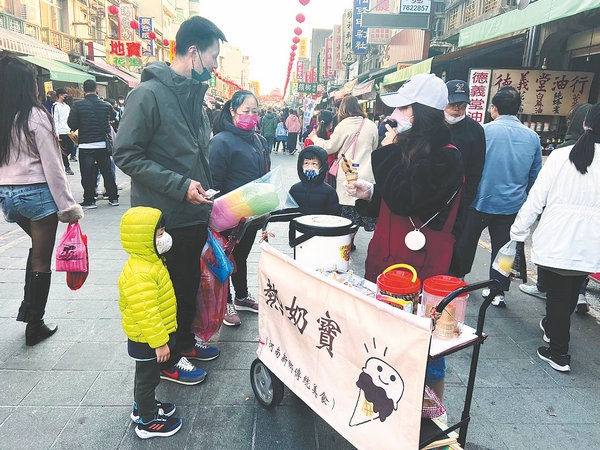 "I often had customers come to me, saying things like 'I've been watching Xiaohongshu and Tik-Tok videos for a while. Today I finally get to eat renaibao here in Beigang, and I'm so happy'," recalls Zheng.
But Zheng is neither the only one, nor the first, to introduce such snacks to Taiwan. In fact, this past Spring Festival was the first time that Zheng went home since her freshman year in college, and she couldn't help but notice that cuisine from the mainland has become more prominent in Taiwan.
"I saw Chengdu Carambola Ice in Ximending, Taipei, but I was even more surprised to find Chongqing hot and sour rice noodles, Shanxi sliced noodles, Shandong dumplings and even restaurants serving river snail rice noodles," she says.
And this is not a one-way street. On her trips traveling to different parts of the Chinese mainland, such as the Ningxia Hui autonomous region and Beijing, Zheng also came across Taiwan culinary specialties, from beef noodle soup and braised pork on rice to rice balls and stinky tofu hot pot.
"I've gotten to experience the curiosity and fondness that people on both sides of the Straits have for each other's cuisine," says Zheng.
Zheng is planning to bring home more trendy foods from the mainland, so that more people can experience their wonderful flavor. She would also love it if her friends in Taiwan can join her for an exchange of knowledge and travel in the mainland.