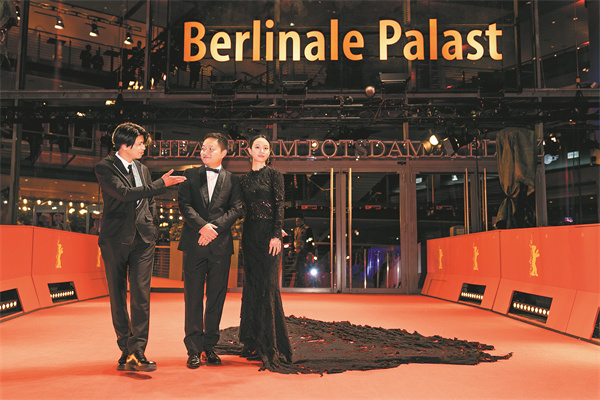 On a ferry to the island province of Hainan, several passengers wear woven straw hats sitting in a semi-enclosed cabin, with a few babbling children nearby. The boatman is silent, concentrating on the sea. Some passengers hold electric scooters, and tourists take photos from any advantageous spot on the deck. A sudden gust of wind blows the tourists' hats and they appear almost suspended, in midair.
The passengers' eyes are drawn to the bridge under construction in the distance that connects the island with the mainland. The huge bridge supports stand more than 100 meters high, straight into the sky as if standing sentinel.
Director Wu Lang, traveling on the ferry, is inspired by the huge contrast in size — the ferry seems like a duckweed leaf in the water, passing under the bridge supports.
After stepping on the island, the sound of machinery comes from all directions, the sand being piled into towers on the ground, and dust in the air. Wu hears from the locals that the ferry route will no longer exist once the bridge is completed. The road on the island will be widened, and high-rise buildings will be constructed to speed up the process of modernization.
Faced with these ongoing changes, the future, it seems, was laid out before him, and Wu decided to tell the story of the island from the perspective of a man returning home with an underlying uneasiness.
Absence, a feature film directed by Wu, premiered in Berlin, Germany, on Feb 21. It is the only Chinese film to be included in the Encounters section of the 73rd Berlin International Film Festival, which took place from Feb 16 to 26.
Encounters is known as the Berlinale's most dynamic section for innovative films.
An invitation letter from the 73rd Berlinale's organizing committee mentioned particularly that "Wu Lang's unique aesthetics and poetic lines are very impressive".
"Absence can represent Chinese movies, and appear on the world stage, exchanging ideas with global audiences and movie industry professionals, which is an 'encounter' itself," says Wu. "I believe film is a way to communicate."