Editor's note: There are 43 items inscribed on UNESCO's Intangible Cultural Heritage lists that not only bear witness to the past glories of Chinese civilization, but also continue to shine today. China Daily looks at the protection and inheritance of some of these cultural legacies. In this installment, we discover the ancient wisdom and healing power of taijiquan, a traditional Chinese martial art with modern global appeal.
Although more than two years have passed, Chen Bing is still excited when he talks about the moment China's taijiquan was added to UNESCO's Representative List of the Intangible Cultural Heritage of Humanity on Dec 17, 2020.
The then 49-year-old was the first to appear demonstrating the classic moves of the traditional martial art, also known as tai chi, in the introduction film that was submitted to UNESCO.
"It proves to me the cause I've engaged in is world-class and for all humanity," Chen says.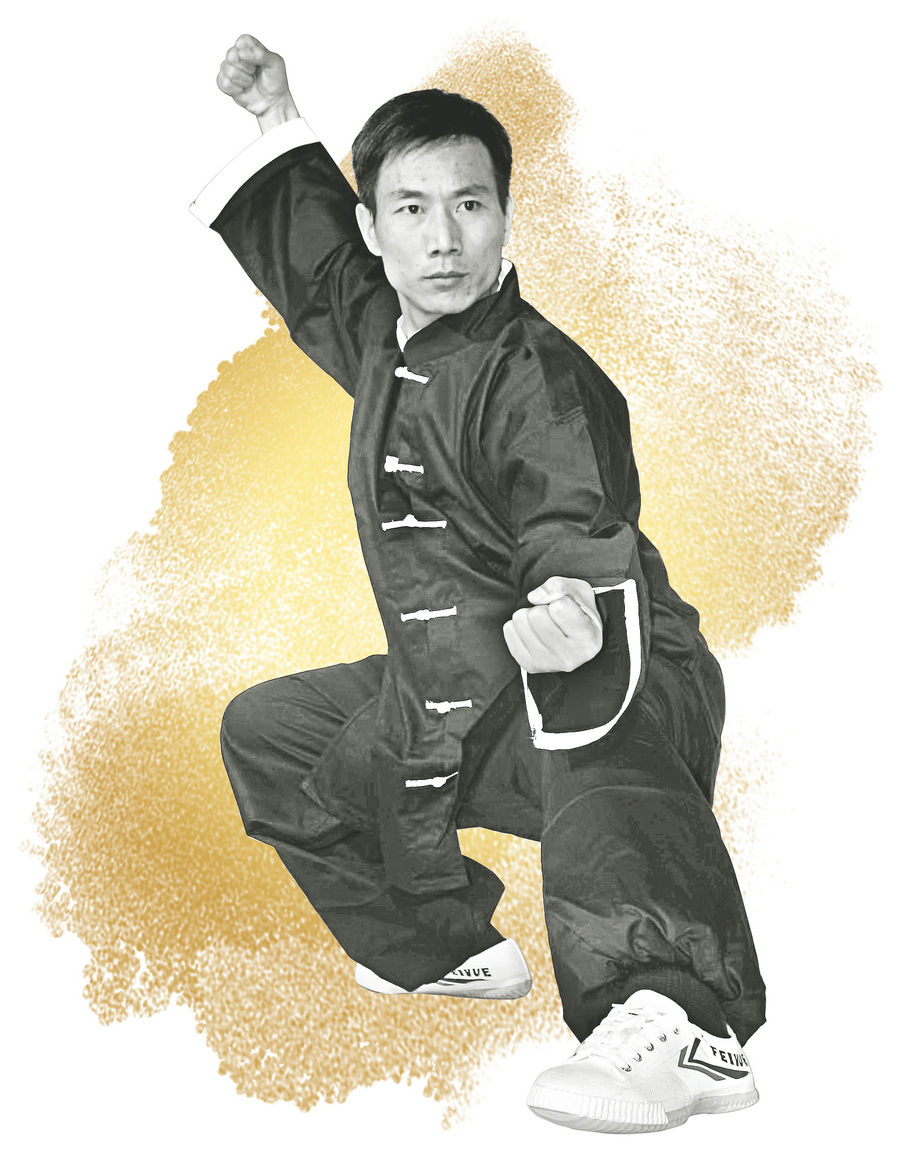 On its website, UNESCO describes taijiquan as "a traditional physical practice characterized by relaxed, circular movements that work in harmony with breath regulation and the cultivation of a righteous and neutral mind".
Influenced by Taoist and Confucian thoughts, and the theories of traditional Chinese medicine, the practice has developed into several schools or styles, usually named after a clan or a master, such as Chen-style and Yang-style.
They are passed down generationally within the clan, or through the master-apprentice model, and are built upon the yin-and-yang cycle and the cultural understanding of the unity of heaven and humanity, according to UNESCO.
Chen, one of the masters of the Chen-style taijiquan, has been practicing the martial art since he was 6 years old, under the tutelage of his uncles, Chen Xiaowang and Chen Xiaoxing, two iconic figures of Chen-style taijiquan, in Chenjiagou, Wenxian county, Central China's Henan province.
"Chen-style taijiquan boasts the longest history, and other styles directly or indirectly branched out from it," Chen Bing says.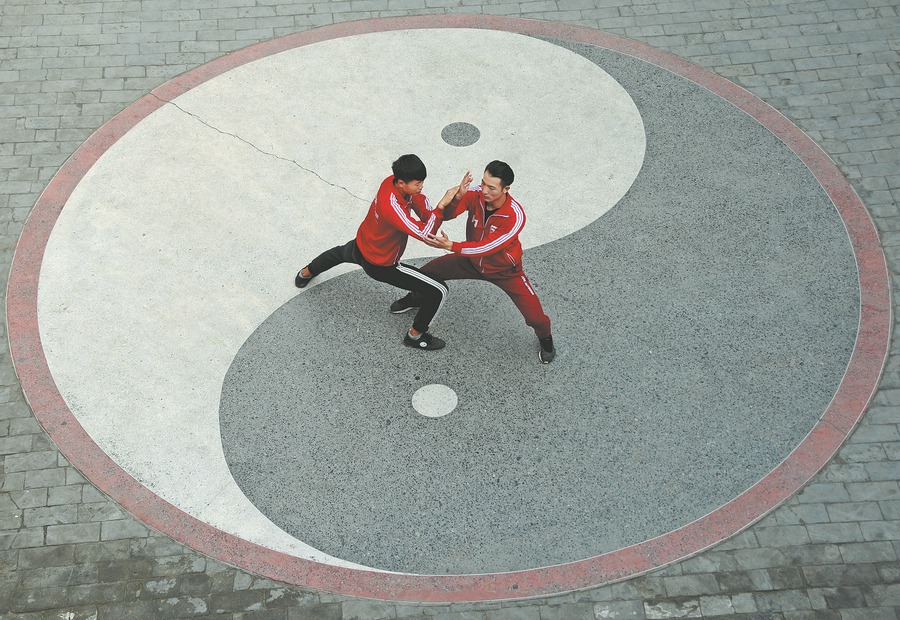 In China, seven national-level intangible cultural heritage items are related to different taijiquan styles, according to the Ministry of Culture and Tourism.
"Taijiquan events have not been held frequently over the past few years, due to the pandemic, but we can see public enthusiasm has grown considerably," Chen Bing says.
Since November, Chen Bing and 100 masters from Wenxian have been conducting classes via livestream on video-sharing mobile apps like Douyin, the Chinese iteration of TikTok, and Kuaishou, which drew in more than 400,000 viewers.
Chen Bing has held nothing back in imparting his taijiquan wisdom during the online sessions.
He has also developed a simple version of some of the moves to help people to relax at the office.
"The feedback has been great, and we've found that social media offers an effective way to popularize taijiquan," says Chen Bing. "We'll keep doing it and make a go of it."
More than two decades of practice have made Chen Bing a master himself. In 2021, he was named a provincial taijiquan inheritor.
"One's understanding of taijiquan can evolve as the practice continues," Chen Bing explains.
"As an adolescent, it might be more of a martial art that strengthens your body and hones fighting skills. As one's experience grows, it becomes easier to appreciate its cultural connotations," he adds.
Chen Bing says taijiquan has taught him to stay calm during life's ups and downs, and to embrace the world with an open mind.
He has nurtured more than 400 disciples, who, in turn, have passed the knowledge on to their students.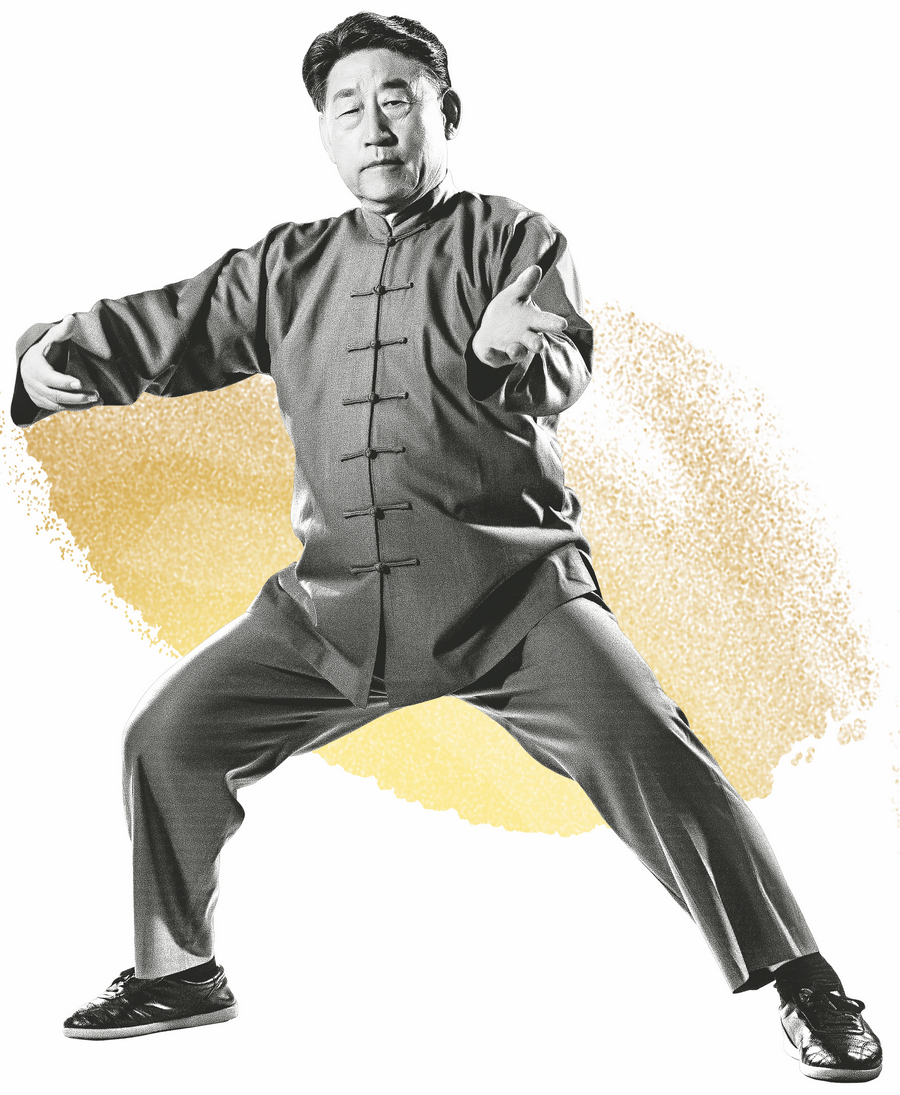 Devoted inheritors
The rise of Chen-style taijiquan wouldn't have happened if it weren't for the efforts of "the four tigers" — Chen Xiaowang, Chen Zhenglei, Wang Xi'an and Zhu Tiancai, all tai chi masters who were chiefly responsible for taking the family art beyond the confines of their village walls in the latter half of the 20th century "Many people overseas weren't familiar with the martial art back then," says Chen Xiaowang.
The man, in his 70s, has traveled the world, teaching and promoting taijiquan since the 1990s, when he became one of the country's greatest champions. His fighting style was developed by his family 19 generations ago. It was popularized in China in the early 20th century by his grandfather, Chen Fake.
Chen Xiaowang has practiced taijiquan since he was 7 years old.
During the late 1970s and early '80s, he established his own core ideological and theoretical system.
"Support for taijiquan development became evident in the '80s," he recalls, adding that many martial arts competitions were staged where he won championships or was invited to give taijiquan demonstrations.
He has since committed himself to promoting the martial art.
Over the years, Chen Xiaowang has given instruction to more than 300,000 disciples in 80 countries and regions.
Chen Xiaowang sums up his work as "shedding light on the mysteries of taijiquan and making them understandable in a scientific way" through his decades of practice and study.
He proposes the implementation of the philosophical thought of yin and yang on mental balance and stresses that the goal of practicing taijiquan properly is to cultivate one's moral character.
"Taijiquan requires its practitioners to be upright and peaceful, and act from the perspective of others, which reflects Confucianism's emphasis on self-cultivation and benevolence," Chen Xiaowang explains.
"It's both a combat strategy and an expression of strength and confidence," he adds.
Moreover, the martial art advocates using gentleness to overcome toughness, and utilizing weakness to conquer strength through one's subjective experiences and self-awareness, which is consistent with the wisdom of Taoism, according to Chen Xiaowang.
Taijiquan also features the interplay between movement and stillness, emptiness and reality, opening and closing, and rigidity and gentleness, which is "a perfect embodiment of harmonious coexistence and unity in diversity", he says.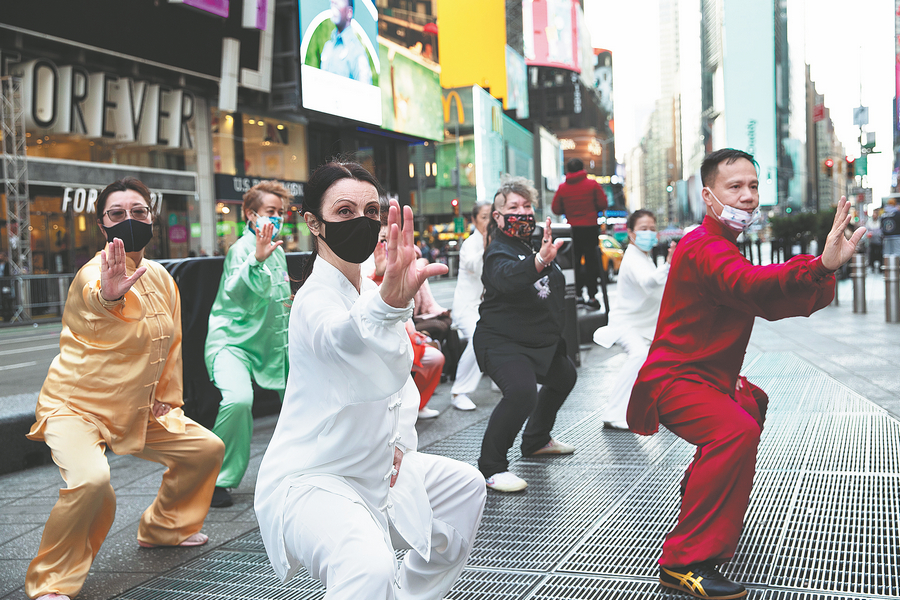 Overseas following
The efforts of taijiquan masters like Chen Xiaowang have helped the martial art take root in foreign lands.
For the past three years, come rain or shine, Ren Guangyi, one of Chen Xiaowang's disciples, has never failed to lead a dozen of his students in practicing taijiquan at Central Park in New York every Sunday.
The man, in his late 50s, wields his arms and legs with panache while uttering instructions to his followers, who move in sync with him.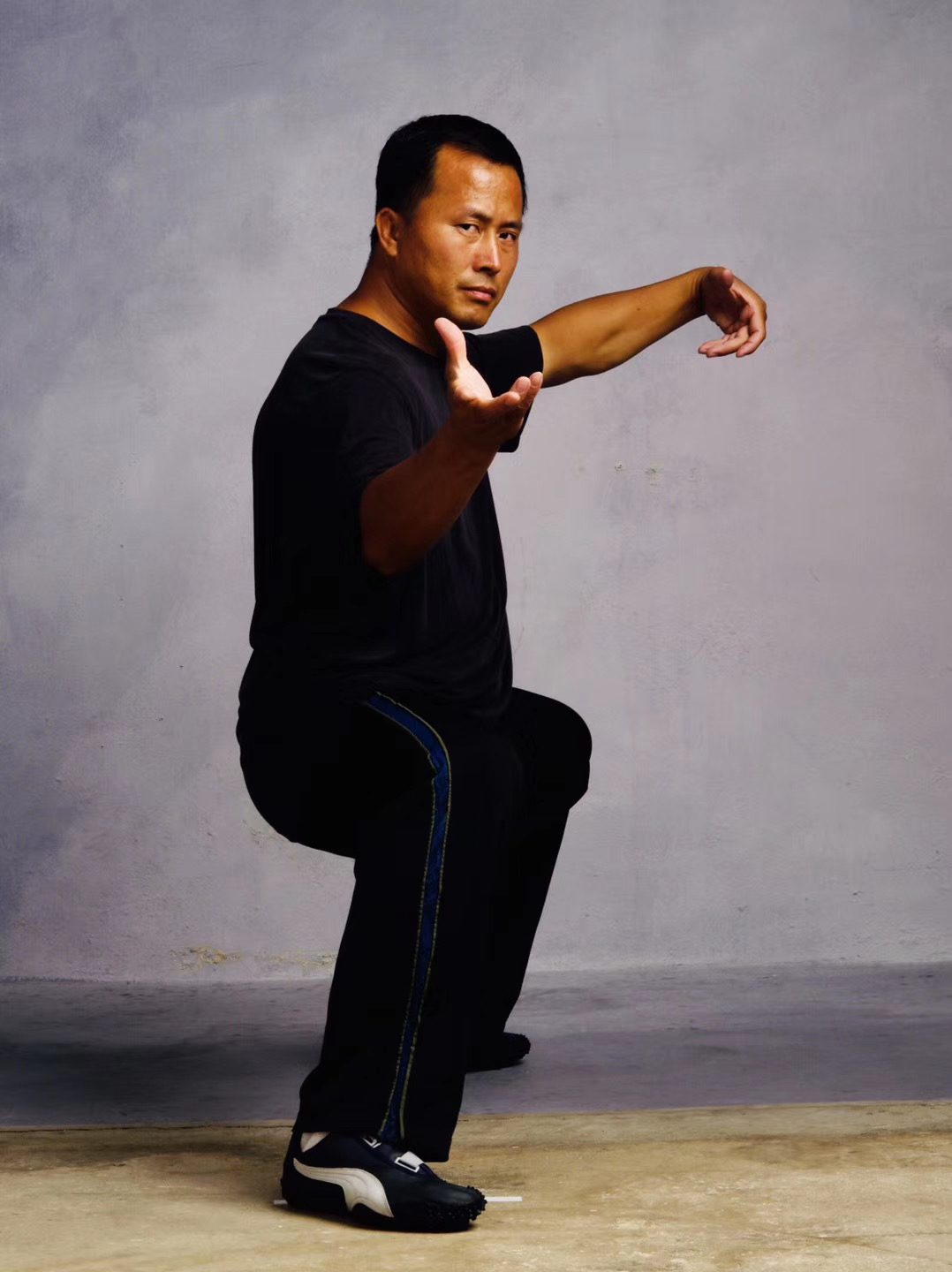 Despite the pandemic, the enthusiasm of the local residents toward taijiquan has not been dampened. "I used to teach indoors, but moved the class into the open air for health reasons," Ren says.
"Taijiquan has become increasingly popular over the past three decades in the United States, and the rest of the world," says Ren, who studied Chen-style taijiquan with Chen Xiaowang for eight years in Henan province before moving to New York in 1991.
Ren still remembers how he was impressed by Chen Xiaowang's demonstration of taijiquan the first time they met in 1981.
"He showed me how my shoulders and elbows could hurt people, and that for any place somebody wants to hit you, you can deflect the blow. You can start from standing up, then you can do it sitting down," Ren says.
"Then, Chen asked me and several young men to hold both his arms, and he managed to shake us all off without seeming to use any strength."
Taijiquan immediately had Ren under its spell, and he became committed to practicing the traditional martial art.
Ren started with the taijiquan stance and spent the following years honing his skills in every aspect of the discipline in Henan.
It didn't take long before he drew attention on the US soil, as his private demonstrations of taijiquan stunned guests.
Ren recalls that several of them requested to learn taijiquan from him on the spot, with handsome offers of tuition fees.
He continued to make his presence felt in martial arts circles, particularly after signing up for three big competitions in California and Virginia in 1991, where he stood out among his rivals.
People started to beat a path to his door, and his weekly group class has grown from two students to more than 30.
He has also been invited to give private lessons to celebrities and business tycoons, including actor Hugh Jackman and cosmetics mogul and philanthropist Leonard Lauder.
Many of Ren's students originally practiced taijiquan for health reasons.
Daniel Richman is a pain management specialist who has often recommended his patients try the martial art, which significantly helped his own neck pain.
Ren is snowed under with invitations to give lectures across the US and other countries. In his early years in the US, Ren says he would be out on the road for six months, demonstrating taijiquan.
"Each lecture was attended by between 20 and 50 people, who showed great interest and insisted on trying it on the spot," Ren says.
Over the years, Ren has managed to help stage public taijiquan performances in New York's Times Square, on the Brooklyn Bridge and at Lincoln Center.
He has been acutely aware of the rising popularity of taijiquan abroad, especially compared with how things were when he first arrived.
"People are not strange to taijiquan and have a very high understanding of it when they approach me," Ren says.
"Some of them actually already practice well and just want to refine their skills out of their fondness for the Chinese martial art," he adds.
Ren says Chen-style taijiquan and the Yang-style are pretty much the same, with only slight differences. In his opinion, Chen-style taijiquan places more focus on integration of rigidity and flexibility, as well as the speed of the movements, while the Yang-style pays more attention to body extension and the combination with other martial elements.
Ren has planned to host a lecture in May in New York.
"More elements will be added to enable visitors to better appreciate taijiquan in the future," he says.
Chen Bing believes taijiquan will enjoy even greater development as life returns to normal in China after the pandemic.
"Many taijiquan masters have spent more time improving their knowledge and skills over the past three years," he says.