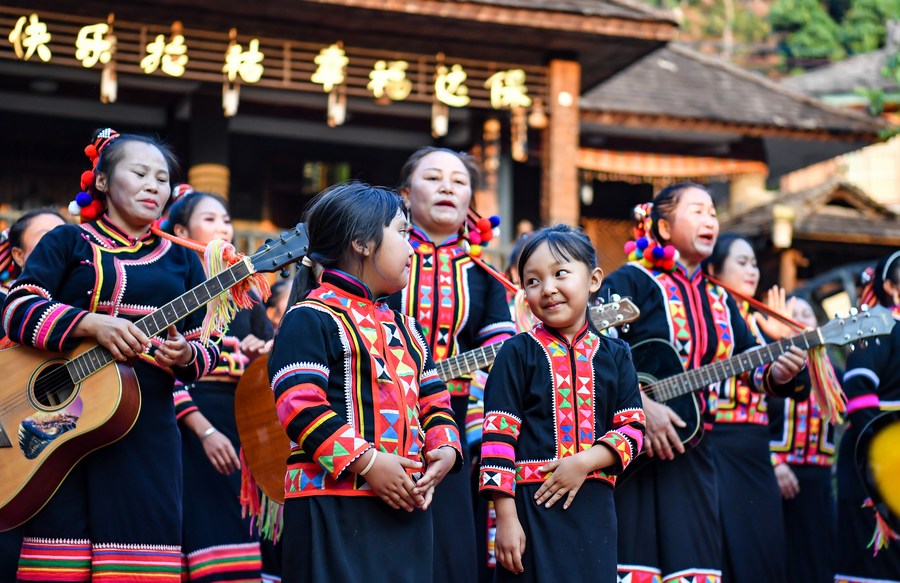 The ethnic Lahu people in the village of Laodabao have long cherished singing and dancing purely as a form of entertainment, but now their artistic flair is resulting in a windfall of fortune for the once impoverished village.
Nestled in the mountainous Pu'er region of Yunnan province in Southwest China, the village was previously plagued by poverty, with roughly 80 percent of its population living below the country's poverty line a decade ago.
Faced with hardships, music provided solace to the villagers. In the absence of electricity to illuminate the village at night, they would gather around a bonfire to sing, dance, and play musical instruments.
As a child, Li Naluo, now 39, learned to play the guitar and occasionally traveled outside the village with her father to perform. Motivated by China's poverty alleviation campaign, Li took the lead to establish a performing arts company in 2013 to engage more than 200 villagers of different ages with an aim of improving their income.
Since its establishment, the company has performed on more than 960 occasions in the village, in front of a total of over 153,000 visitors, generating an income of more than 4.75 million yuan (about 688,750 US dollars).
Performing their cultural songs and dances for visitors from across the country has become a part of the villagers' routine and they have also taken their performances to stages in big Chinese cities and even abroad.
"Sometimes when I am doing farm work, I suddenly get a call asking me to perform. I then rush home and put on my costume. Once the singing is done, I go back to the fields to work," said Li Shikai, Naluo's father.
The transformation seen in Laodabao is a shared experience in Pu'er, a border city inhabited by 26 different ethnic groups. In the course of China's modernization drive, ethnic minorities are rediscovering their traditions and are creating a better life by tapping into their unique development potential.