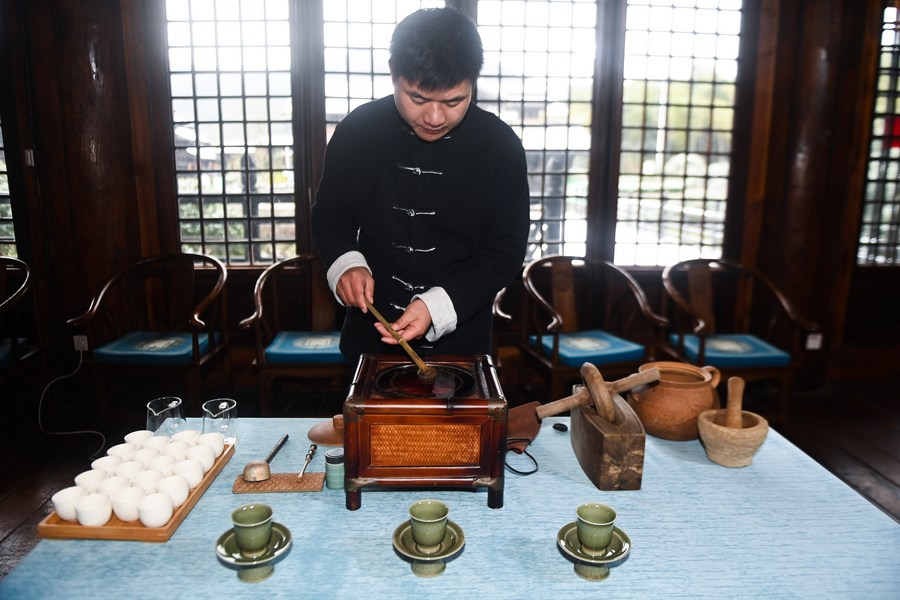 Tea is often associated with a diverse range of characteristics such as variety, color and aroma, but in recent times, the tea culture has gained significant attention in China, especially as a social pastime.
One such example is Weiluzhucha -- People gather around a stove to boil tea and have a natter, reminiscent of their ancestors who indulged in the same ritual a long time ago.
At the cafe called Ziyoudiluying in downtown Beijing, pu'er tea, a type of fermented tea that is renowned for its exquisite fragrance, is prepared on a stove using vermilion clay teapots. A range of delectable snacks like persimmon, jujubes and peanuts are scattered around the pots, as well as being heated, adding to the overall ambiance.
"Brewing tea is a process that demands patience. Friends gather around the fire, chat, drink tea and appreciate the tranquility. Such an ambiance provides a momentary respite to escape the clamor of daily life and embrace a sense of calm," said Tong Shanshan, 31, owner of the cafe.
"This place of historical heritage offers a blend of both history and modernity," Tong said, adding that visitors can enjoy stunning views of hutongs, the Drum Tower and Shichahai Lake from the bar's terrace and capture memorable selfies.
Over 500 orders have been served since the bar launched the stove-boiled tea service in January, with a basic tea set costing 268 yuan (about 39 U.S. dollars) for two to four persons.
"Weiluzhucha has become a socializing activity, and the low-fat and healthy features of the product encourage more young people to embrace tea culture," Tong said.
As the temperature has dropped this winter, stove-boiled tea has ridden the wave of reviving traditional Chinese style, to become a social media fad and a new consumption trend. There are more than 750,000 notes about the topic on Xiaohongshu, or Little Red Book, China's lifestyle-focused social media platform, and nearly 5 billion video views on Douyin, the Chinese version of TikTok.
"This new trend of savoring tea has brought the scenes of period TV dramas into our lives," said Zhang Xuange, a tourist in Beijing from northeast China's Shenyang city, adding that he enjoyed its immersive experience and interactions with friends when boiling tea.
The total consumption in Beijing is expected to increase by about 5.5 percent in 2023, and efforts will be made to improve the quality of consumption and build a regional dynamic consumption circle scientifically, said Ding Yong, head of the municipal commerce bureau.
Over the past decade, along with the expanding middle class in China and the doubling per capita disposable income, the market of "new tea beverages," including stove-boiled tea and brewed tea combined with fresh fruits and vegetables, among others, has boomed.