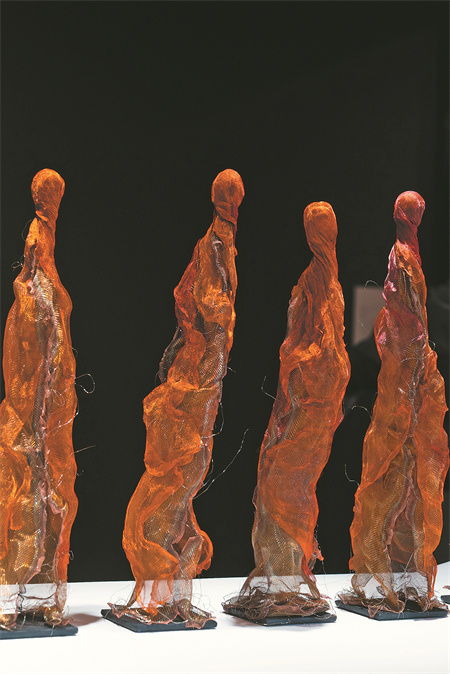 At the start of the exhibition is The Endless Line, an installation that South Korean artist Sun Young-kang had originally created as a commission for an international art project in his home. Cotton threads, mirrors, sugar and other materials were used to form several columns. The work was for a cultural park built at the former site of a sugar refinery, and the columns stand as the time channel to connect the site's past as a scaled industry construction with its present as a new venue of vigor and a bright future. The columns are a metaphor of people's belief in going through times of difficulty and blazing a trail.
Fibers, such as cotton, are a favored material for several artists at the exhibition. Jo Hamilton, born in Scotland and now living in Portland, the United States, worked for a social service organization for the elderly for some 14 years. She knitted portraits of woolen threads for the elderly under her care. The works from this series are on show in Beijing.
She learned to knit in childhood from her grandmother and mother. The colorful threads, the soft texture of the wool and the intimate atmosphere of knitting invigorate the women in her works, as if they are not aging.
Hamilton says she wanted to praise and care for people, especially those who normally will not become models for artworks. She has tried to capture particular moments of her subjects so that they will be understood to some extent by the strangers looking at the portraits.