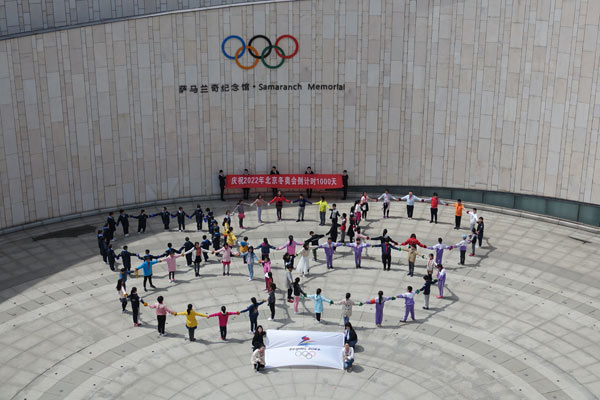 TIANJIN — After a temporary closure during the Chinese Lunar New Year holiday, the Samaranch Memorial has just reopened, coinciding with the first anniversary of the 2022 Winter Olympic Games in Beijing.
Many visitors were spellbound by a blazing Olympic torch called Flying, the symbol of the 2022 Winter Olympics in Beijing, which is displayed at the memorial.
The memorial, located in the northern Chinese port city of Tianjin, has been committed to spreading the Winter Olympic spirit and promoting winter sports in China, according to its founder Wu Ching-kuo.
Established in 2013, the memorial is the only venue in the world authorized by the Samaranch family and approved by the International Olympic Committee to commemorate former IOC President Juan Antonio Samaranch. It houses most of Samaranch's lifelong Olympic collection.
From an exhibition centered on Samaranch's life, visitors can learn of his affection for floor-ball, a sport promoted by China's General Administration of Sport for southern cities where ice-and-snow sports are not easily accessible.
During Samaranch's IOC presidency, China successfully won the bid for the 2008 Summer Olympics, while his son Juan Antonio Samaranch Jr. was involved in the preparations for the 2022 Winter Olympics.
"Samaranch would be happy to see Beijing as a 'dual Olympic city'. So the two torches of the two Olympics were lit here for him," says Wu from Taiwan.
According to Wu, Beijing again presented the world with an unforgettable Olympic Games showcasing the Chinese people's sporting spirit.
The Winter Olympics were a grand sports event and a reflection of China's aspiration to build a community with a shared future for humanity, Wu says.
The Beijing Winter Olympic Games have aroused the enthusiasm of many Chinese for ice-and-snow sports, and has ushered in a new era of winter sports in the country.
"In the past few years, I have seen many newly built high-standard ski resorts in China. Winter sports have gained popularity, with more than 300 million Chinese people having experienced them since Beijing won the bid to host the 2022 Olympic Games," Wu says.
The memorial has been committed to popularizing ice-and-snow sports based on the Olympic values, says Zhang Xiuli, the memorial's deputy director. It has hosted a series of online and offline activities, including an exhibition of the Beijing 2022 Olympic torch relay, to enhance people's understanding of the Olympic spirit.
Zhang says that during the COVID-19 pandemic, the memorial launched a series of online exhibitions on social media platforms.
"The memorial will continue to promote the culture of the Winter Olympics and winter sports," Zhang adds.