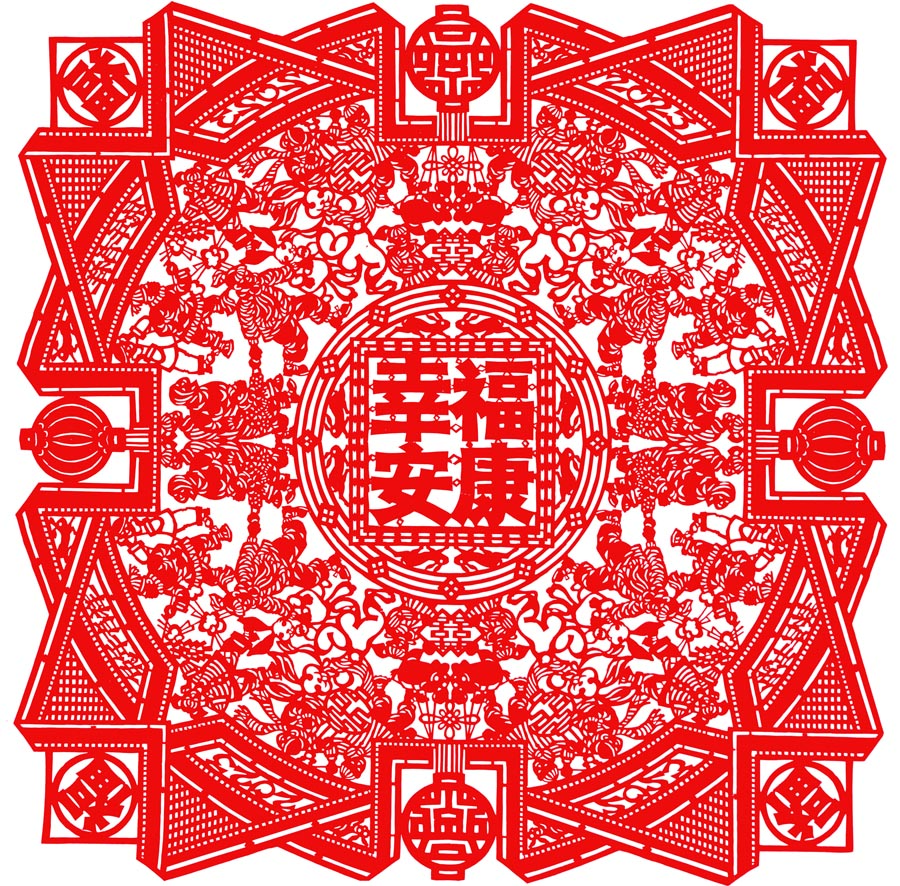 In China, different paper-cuts are used for weddings, funerals and births, as well as specific designs for old age and sickness. They're also used to invoke spirits for the frightened and the sick — even those of the dead — and to pray for good weather.
Liu says that, in the past, when a child was sick, the mother would make a paper-cut of dolls holding hands to act as a substitute to lure the "bad spirits" away from the child.
She explains that in northern Shaanxi, while the man's most important tool is a hoe for plowing the fields to feed the family, the woman's is her scissors, used to make clothes and keep the family warm. They are cultural symbols and ensure an agricultural society's ideal of peace and order.
She recalls that, during her childhood, at Spring Festival, children would go to see the paper-cuts decorating the traditional cave dwellings, and they all believed that the most beautiful ones were made by their own mother. There are rules about which patterns should be displayed as window decorations on different days of the festival.
Liu attributes the different types of paper-cuts to the indigenous cultures and topography of the country.
Painter and paper-cutting artist Li Zhengming, 70, agrees.
"The themes vary between regions. While many paper-cuts in northern China are about figures and folk stories, there are more flowers and birds in the paper-cuts of southern China," says Li, from Beijing, who started to collect paper-cuts from all over China in 1976, before taking up the art form himself when he retired in 2014.
"In all art forms, including paper-cutting, it's essential to have continuous innovation, which originates from life. You should not be restricted within the framework of traditional themes," he says.
His paper-cuts are mainly about different aspects of social life, based on his careful observations.
He uses painting to design paper-cuts, and it takes at least a week to finish a piece. He combines traditional folk images with other Chinese cultural symbols, such as seal script and oracle bone inscriptions, in his paper-cut designs.
Every Spring Festival, he makes a paper-cut on the theme of whichever of the 12 Chinese zodiac animals the new year ushers forth. He also creates paper-cuts to record festive scenes, such as family reunions and temple fairs.
He creates a design at first and uses a burin to carefully carve out the complicated patterns. He often folds the 76-centimeter square paper several times, to ensure a symmetrical design which adheres to traditional Chinese aesthetics. Finally, he puts in some different elements to add a little contrast to the symmetry.
Tai Gaodi, associate researcher at Chinese National Academy of Arts, says: "Chinese paper-cutting is closely related to the nation's original culture and religious beliefs, such as reproductive worship, praying for blessings and warding off disasters. It contains deep cultural value, as well as traditional Chinese philosophy and morals."
In Chaozhou, Guangdong province, paper-cuts are pasted onto sacrificial offerings at such rituals and local craftspeople also chisel patterns in copper or gold foil. In Yueqing, Zhejiang province, it's a tradition to paste paper-cuts with intricate patterns on large dragon boat-shaped lanterns during Lantern Festival.
Tai adds that the paper-cuts of ethnic groups in China have different characteristics, showcasing their ancestors' stories and mythology, as well as religious and folk traditions.
Liu notes that development is needed for future inheritance. She recently worked on a collaboration to make silver ornaments based on her paper-cut patterns.
Liu, as president of Yanchuan county's Women's Cultural Artists Association, often delivers speeches at colleges to promote the culture of paper-cutting among youngsters.
Tai says: "Like other folk arts, paper-cutting has less practical use than before — there are fewer people using them nowadays. But paper-cutting can be revived in other ways. Its patterns can be used to make creative cultural products and cartoons, for example, or even to be printed on clothes."