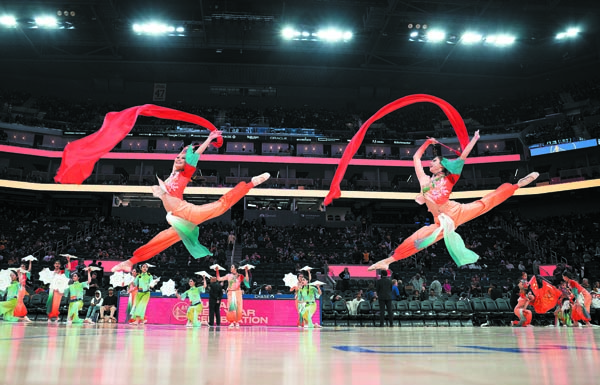 Events take place nationwide as California declares holiday, May Zhou reports in Houston.
As the Year of the Rabbit arrived on Jan 22, a Sunday, people across the United States had ample free time to celebrate the traditional Chinese New Year festival, with one of the highlights being a special tribute by China's Foreign Minister Qin Gang at an NBA game in Washington.
Qin made the video appearance on the eve of Chinese New Year during halftime of the basketball game between the Washington Wizards and the Orlando Magic.
In his celebratory speech, Qin said that the Year of the Rabbit symbolizes kindness, grace and beauty. "Last December, I was here at Capital One Arena as Chinese Ambassador. I spent a wonderful evening watching a fabulous game by Washington Wizards. Today I am glad to join you again in celebrating the Chinese New Year," Qin told the audience.
The halftime break also featured Chinese performances. Children of the Chinese embassy staff appeared as panda mascots to entertain the audience and threw stuffed toy rabbits to cheers from the audience.
Two musicians played the American national anthem on pipa, a traditional Chinese instrument, while members of Washington's Chinese community also presented dance performances.
Across the continent, on the West Coast, Chinese performances were also featured during halftime of the NBA game between San Francisco's Golden State Warriors and the Brooklyn Nets.
Aimee Han, 7, would have been one of the performers if not for a last-minute change to attend a dance troupe rehearsal for a big event the next day.
Li Zhang, Aimee's mother, regretted that the conflict left her family unable to observe the most celebrated Chinese holiday.
"However, it's amazing that we are part of the ceremonial moment as the Warriors celebrate Lunar New Year by inviting Chinese performers," Zhang said.
Chinatown in San Francisco displayed spectacular fireworks. Mixed with lion dances, the celebration lasted five hours until midnight, with people running and skating. The tradition dates back to the 1860s and is getting larger every year. The celebration attracted many non-Asians to enjoy the revelry.
In Los Angeles, Disney kicked off its Lunar New Year celebrations on Jan 20 with an assortment of activities that will continue until Feb 15.Park visitors will experience attractions such as Mulan's Lunar New Year procession, a parade featuring characters from the movie Mulan, as well as a Chinese dragon puppet, warriors, drummers and dancers.
For the first time in the state's history, Lunar New Year is an official holiday in California. Governor Gavin Newsom signed the bill, that "acknowledges the diversity and cultural significance Asian Americans bring to California", into law in September 2022.
In Seattle, there were security concerns sparked by two deadly mass shootings in California during Lunar New Year, as a large crowd celebrated on Pier 62 on the afternoon of Jan 22.
An organizer of the event, Yoon Kang-O'Higgins, the director of public programs for Friends of the Waterfront, told reporters that they tightened security to make sure the venue was a safe place to celebrate.
"We are committed to creating a space where people do feel safe, that they belong," Kang-O'Higgins told KIRO 7 News in Seattle, "and that these celebrations can still happen in a way that brings joy, that these things can happen, that it won't make us stop doing the work we are doing."
Fireworks were also big in New York, which kicked off celebrations with a host of cultural and artistic events for the Year of the Rabbit.
Thousands of people gathered to watch the Manhattan skyline light up with fireworks at Sara D. Roosevelt Park on Jan 22. The display was part of the 25th New Year Firecracker Ceremony and Cultural Festival.
Guests wore red and gold to the event, and there was also traditional storytelling, performances and snacks; The Shaolin Kung Fu Lion Dancers also attended.
Several other artistic celebrations will take place in New York City to mark the new year.
On Jan 31, the New York Philharmonic will present a Lunar New Year concert featuring violinist Ning Feng in an arrangement of Leonard Bernstein's West Side Story. There will also be various performances featuring Chinese instruments.
Another New York cultural institution — The Metropolitan Opera — will host a series of Lunar New Year events throughout January.
In a culmination of festivities, thousands are expected to attend the Chinatown Lunar New Year Parade and Festival on Feb 12.
Despite the fact that Lunar New Year is celebrated by a large swath of the world's population in various East Asian countries and by millions of Asian Americans in the US, it is yet to be recognized as a federal holiday.
US Representative Grace Meng, a Democrat from Queens, New York, reintroduced legislation last week to make Lunar New Year the 12th federal holiday.
"My federal holiday bill is about more than just a day off from work or school. It is about educating people on cultural practices and expanding experiences beyond one's individual heritage," Meng said in a statement.
Belinda Robinson in New York, Linda Deng in Seattle, Liu Yinmeng in Los Angeles and Chang Jun in San Francisco contributed to this story.