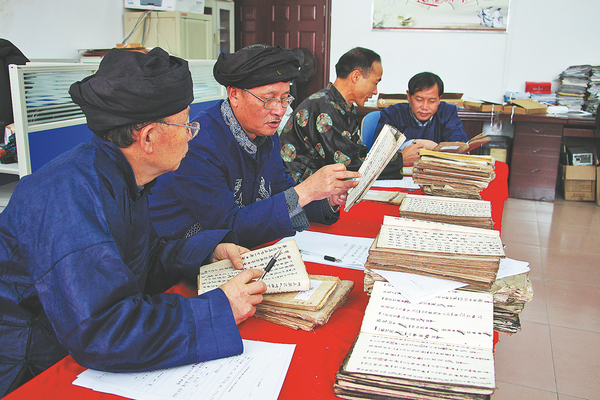 At age 13, Yang started to study Shuishu characters with his uncle at night during slack farming seasons and learned by rote at first because there were too many things to remember.
"You need to do good deeds and be ready to suffer losses, with a spirit of dedication. I'm proud that I made it as the chosen one. The more I learned about the language, the more I became interested in it," Yang says.
According to Sui tradition, the learning of Shuishu should be passed on to only men within a master's family. The elderly in his family were careful to observe it. However, Yang decided to teach Shuishu to others outside his family, and in 2015, he started to teach women as well. There was opposition from some elderly Shuishu masters.
Similar to some other national intangible cultural heritage items, there are fewer potential inheritors for Shuishu, because many youngsters are leaving their hometowns to work in big cities.
The strict rules of Shuishu made it more difficult to find a suitable successor. Yang says he feels deep regret that when Shuishu masters passed away due to old age, a lot of the oral accounts and phrases were also lost.
Yang says it had been hard to pass on Shuishu because there was a tradition of burning worn-out books, so only a few well-preserved Shuishu books have survived.