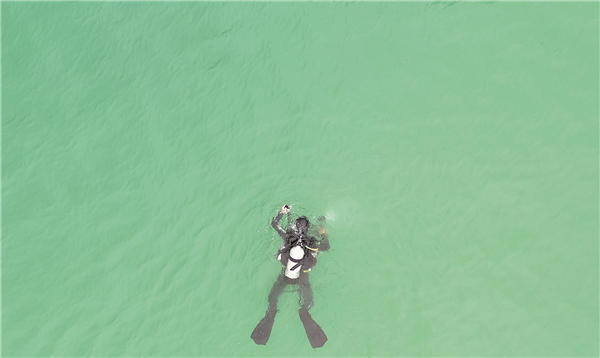 'Guardian of the seas' hopes wave of public awareness will save the oceans, Yang Feiyue reports.
Shen Xiaoming has had several personas throughout his career. These include a cultural and tourism news reporter and an internet company boss.
Yet, after such diverse employment, Shen in his late 40s decided to make a splash as an ocean protector.
This no doubt stemmed from an early interest in diving.
The Shenzhen resident hosted a roundtable in early December where he invited renowned ocean ecologist Avigdor Abelson to lecture on the importance of public participation and collaboration in scientific research in ecological environment.
The audience included professors from Tsinghua University and the University of the Chinese Academy of Sciences.
"Now during the pandemic, many foreign scholars cannot come to China, so we can communicate through this form of network to exchange new ideas and cases in the field of marine ecology abroad," Shen says.
In 2011, Shen went diving off Malaysia and was amazed by the underwater scenery he had never seen before.
"All kinds of fish swam past in groups, and the light overlapped against the deep blue landscape," Shen recalls.
The biggest surprise came when he reached the coral reef area, where he found himself in the middle of a bustling scene.
"I could hear the sound of pistol shrimp hitting the water with their chelipeds from the cave, and the gurgling of the croakers," he says.
"Some fish sounded like a hammer hitting a nail, and some made a sound like a steam whistle."
Yet, he found a completely different scene when he first dived into Dapeng Bay in Shenzhen, South China's Guangdong province, in 2014.
"It was silent, and not a sound could be heard from under the water," he says.
As he looked for reasons for the silence, he found some fishing boats had scraped the seafloor clean in previous years when conducting fishing operations, damaging the coral, one of the oldest creatures on the planet.