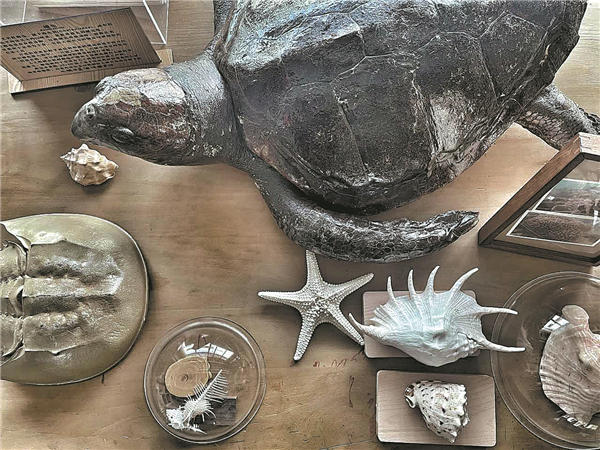 Replanting hope
Coral is the aggregation of limestone skeleton-like structures secreted by coral insects.
Though coral may look like a colorful plant growing from roots in the seafloor, it is actually an animal that forms reefs.
These reefs provide food and habitat for marine species around the globe.
Realizing the importance of coral reefs, Shen established public welfare organization Dive For Love with his diving friends in 2014.
"We believed that if corals were replanted, sea creatures such as wild groupers and abalone would come back," Shen explains.
They cleaned garbage from the seabed, where they found miscellaneous items, such as mesh tarpaulin, sacks and plastic bags.
They had seen crabs, sea urchins and various fish caught on the fishing nets, as well as some corals die for failing to conduct photosynthesis.
"We've seen people leave behind their swimsuits on the beach, which could be swept back to the sea," Shen says, adding that he has found one of them covering a big cave coral that was already whitened.
"It would take seven to eight years for a coral to grow up this big, but it only needs a cheap swimsuit to destroy it."
Another focus of the organization is to restore coral reef resources in Shenzhen.
Shen and his team would swim like fish in the ocean, searching for coral branches broken off by typhoons or trawler anchors.
"We then nurture them in seabed nursery gardens where they would be exposed to good sunlight and water flow," Shen explains.
The nursery gardens were developed after trial and error. They are made of iron pipes and flexible hot-melted pipes as the frame, with counterweights at the bottom and plastic nets hanging on the pipe frame to plant coral after his team's consultation with experts from the South China Sea Institute of Oceanology, Chinese Academy of Sciences.
They managed to withstand the force of waves, while enabling the broken coral reefs to grow.
"When they recovered to a healthy state and grew to a certain degree, we would then use a specific glue to graft them onto natural coral reefs."
The glue is rock hard after 10 hours and is friendly to the ocean.
All the steps are meticulously conducted manually and are time-consuming, but Shen believes the efforts are worth it.
To date, Dive For Love has nearly 3,000 registered volunteers from all walks of life. "Most of them are between 20 and 40," Shen says.
They first learn how to dive for free before they are granted opportunities to give ocean protection lectures to new members or the public.
To date, the organization has helped to restore nearly 10,000 coral fragments.