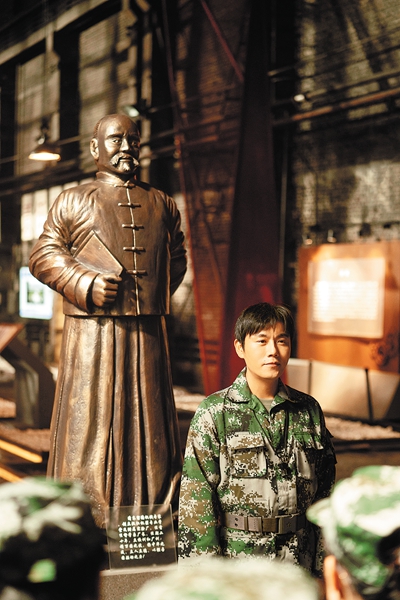 For director Han Xiaojun, the impetus to join the project was Zhou's script, which he describes as an in-depth depiction of Chinese people and their distinctive striving spirit.
A native of Northwest China's Shaanxi province, Han grew up with a strong interest in machines, as four of his relatives — two uncles and aunts — all worked in local factories, giving him a familiarity with old plants.
As the TV series spans more than three decades, the director led a team to investigate dozens of sites to select the best shooting locations.
When they went to an abandoned manufacturing plant initially for several episodes set in the early 1990s, Han says the thick layers of dust and old oil stains remaining on some facilities reminded him of his childhood.
Interestingly, when they took a 10-minute-plus ride to the new plant, he was amazed to see how China's heavy industry had rapidly progressed after seeing the highly modernized workshops.
"The workshops are very clean. Merely in more than one minute, we could see a set of parts turn into a truck after getting through an assembly line. It makes you feel very proud about China's leap in just a few decades," Han says.
After preparing the project for three months in Beijing and Qingdao, Shandong province, the shooting took place from July to November, with its cast reaching more than 300 members for the largest-scale scene in a single day.
For the veteran who has worked in the film and TV industry for more than 30 years, Han says the elements that lay the foundation for a quality work are still characters and the story itself. So, he has encouraged the stars to understand the characters in their own way and thus perform at their best.
"When they got relaxed and felt comfortable with their roles, the shooting could go more smoothly to follow their own pace," he explains.
Noting that the domestic manufacturing industry's development is an epitome of China's rise thanks to the four-decade reform and opening-up, the director says they wish the TV series could find its own way to record this splendid chapter of modern history, taking it as a tribute to those dedicated to raise "made-in-China" to a new height.