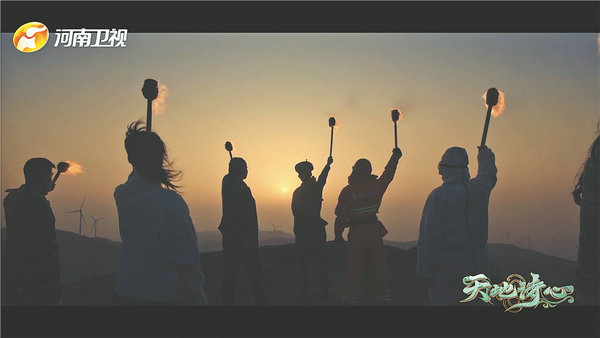 Each 35-minute episode has a different theme — heroes and heroines, culture, ecology and youth.
"People respect heroes and heroines and never forget them. Good literary and artistic creation should be related to the times and people. After watching the TV program, you will find that such principles make sense at different times (in China)," she says.
Besides stories of historical figures, viewers can also see the stories of people born in the 1990s and 2000s, working in various positions, such as a cultural relic restorer and special police officer.
The production team has also combined various art forms, including dance, drama and short films.
Between late December and this May, the film crew visited more than a dozen cities across the country, sometimes having to wait until some locations had no cases of COVID-19. They went to places where events were actually occurring that would be used in the show.
To demonstrate the image of young Chinese soldiers garrisoned at the frontier, the crew researched and read many true stories about the group, including handwritten letters to their families, to get inspiration.
To film moving scenes about the young soldiers' daily routine, they went to a magnificent glacier in Lhokha, Tibet autonomous region, at an altitude of 5,300 meters which meant they had to overcome altitude sickness.
They were moved by the story of Xu Xiujuan from Northeast China's Heilongjiang province, who followed in her father's footsteps to become a protector of red-crowned cranes. In 1987, she was exhausted after helping to locate a lost swan and drowned in a river, at the age 23.
Years later, her brother Xu Jianfeng gave up his job to become a protector of the birds in their hometown Qiqihar's Zhalong National Nature Reserve.
In 2014, he lost control of his motorbike and plunged into a swamp after a routine inspection. He died at the age of 47. His daughter Xu Zhuo then decided to take over the job at the nature reserve.