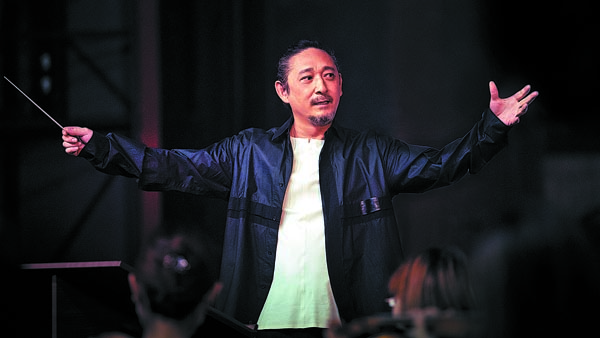 With each concert, San Bao will invite singers who once performed in his musicals, as well as his pop star friends. Each concert will feature more than 30 songs he has written, which will be performed by a live band gathering symphonic, electronic and folk musicians, as well as a chorus under the baton of San Bao.
One of the singers San Bao has invited to perform in the upcoming concerts is pop star Sha Baoliang, who performed the leading role in the Chinese musical Jinsha. Premiered in 2005, the musical, with a script by Guan Shan, was inspired by the archaeological site of Jinsha, which is located near Chengdu, Sichuan province. Sha, along with other singers, such as Tan Weiwei and Yao Beina, performed in the musical's premiere. Besides writing songs, San Bao was also the director of the musical.
"Sha was not my first choice to perform the leading role. I love his voice since he sang some of my pop songs, so I invited him to record demos of the songs for the musical," recalls San Bao.
A week before the musical's premiere, the actor who was supposed to play the leading role lost his voice. Sha stepped in at the last moment for the actor and earned warm feedback from the audiences.
"It was an unforgettable experience for both of us," adds San Bao.
In 2007, San Bao composed songs for a Chinese musical, titled Butterflies, which was directed by Li Dun. Based on the romantic tragedy of Liang Shanbo and Zhu Yingtai, a Chinese folk tale, known as the "Chinese version of Romeo and Juliet", the musical won widespread acclaim and is regarded as a breakthrough for homegrown musicals. Some of the songs in the musical are still performed by singers during reality TV shows.
Liu Yan, a musical actor, who played in Butterflies, will return to perform in San Bao's upcoming concerts.
"Liu Yan was in his early 20s but he trained himself to play the role, that of a man in his 40s. Now, he has grown into one of the most popular musical actors in China. When he performs the songs again, he will give the songs a new life with his own life experiences," San Bao says.
Nie Xiaoqian and Ning Caichen is a Chinese musical premiered in 2014 and based on a supernatural love story between a female ghost, Nie, and a young scholar, Ning. San Bao's wife, Wan Qianhui, a musical singer, will perform songs from the musical during the concerts.
Wan, now an entrepreneur involved in livestreaming, has been away from the stage after becoming a mother in 2018. A mother of two now, she used to be an actress with roles in Chinese plays and musicals, such as The Cherry Orchard and King Lear, both directed by Li Liuyi.
"I've been longing for the theater and it will be the first time that I will share the stage with my husband," says Wan, 29, who graduated from the Central Academy of Drama in 2011.