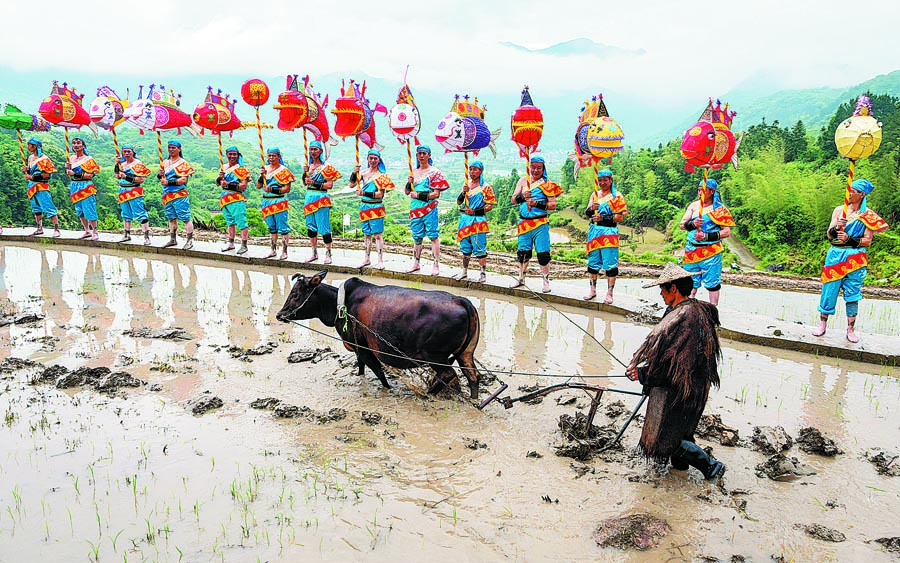 In the past, the villagers had no other income except for raising fish due to the remote location. In 2016, Jin started a project to develop rice-fish farming, which trains more than 100 locals, especially older people, and gives them technical support.
Fish larvae are also provided. The villagers are responsible for raising fish, and Jin purchases fresh fish and other agricultural products and sells them in the market outside.
"No chemical fertilizers and pesticides are allowed here," Jin says, adding that the rice in Qingtian is good food for the fish, and the fish in turn fertilize the soil for the rice that is tasty and glutinous.
Jin has designed the outer packaging and logo of the fish products, applied for certification, and invented a portable vacuum bag that can effectively extend the lives of fish to over 100 hours since they were caught. Fresh fish are put into the bags filled with water and transported to the airport in Shanghai by a truck equipped with an oxygen pump. Then the fish are exported to Spain and Italy.
In 2021, the symbiotic aquaculture system in Qingtian produced an average rice yield of 480 kilograms per 0.07 hectare, and the total output value of rice and fish reached 265 million yuan.
Wu and Jin are just two of a growing number of rural residents in Fangshan who are benefiting from aquaculture, as well as the measures to protect the agricultural heritage of the country.
In 2005, the aquaculture system in Qingtian was designated by the FAO as one of the first batches of the "globally important agricultural heritage "protection pilots.