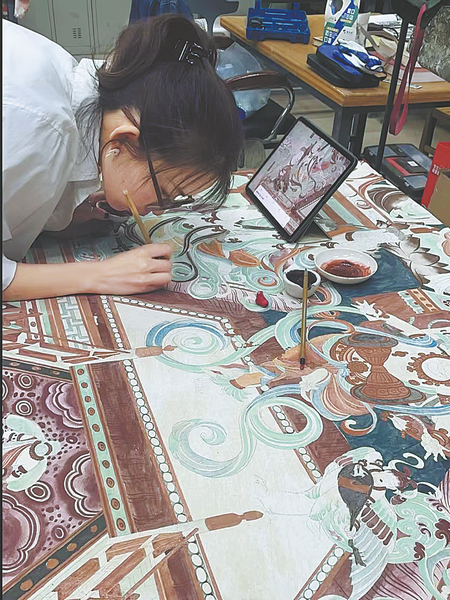 She dug soil on the lakeside, crushing it into pieces and sifting it to obtain a fine earth.
Then, the painting part begins. "The only way is to practice over and again, and learn from your mistakes," she says.
Through trial and error, Qin continued perfecting her skills and has reproduced dozens of well-known murals from the Yongle Palace of Shanxi province, the Fahai Temple of Beijing and the Kizil Grottoes in the Xinjiang Uygur autonomous region. "They all are the cream of the crop among ancient Chinese murals and an indispensable part of learning traditional painting," Qin says.
When Qin decided to reproduce the mural from the Cave 159, she didn't expect that it would take six months. "The complexity was a bit beyond my expectations," she admits.
To start with, the size of the painting was a problem. "The stakes are high when it comes to working on big paintings, which are more difficult to transport and easier to break," Qin explains.
Ingeniously, she developed a thin soil-based board to minimize the risks.
The painting process itself was not exactly plain sailing, either.
Li Jimin, Qin's postgraduate supervisor, says: "Painting an ancient mural is demanding both in terms of the brain and brawn.